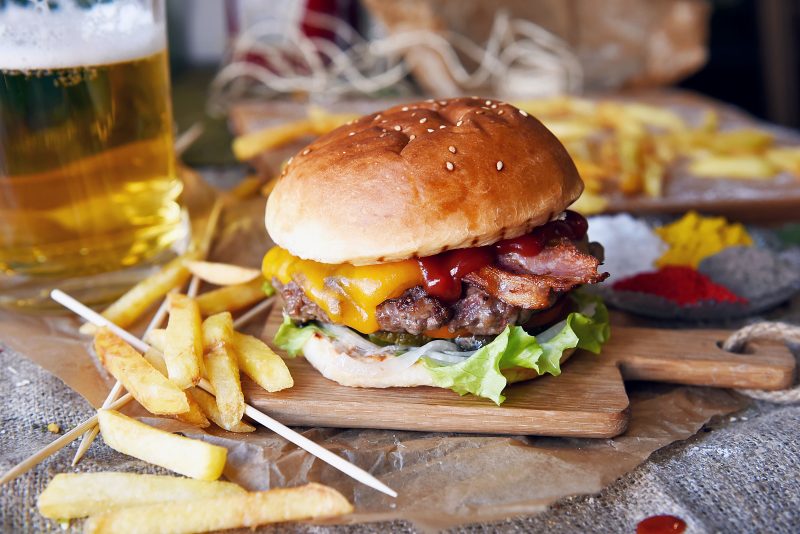 Cape Cod specializes not only in sugar white sands, but also flavorful, delectable burgers. You can work up quite an appetite spending the day swimming and playing in the hot sunshine. The culinary scene in Massachusetts is one of America's best, and fast, casual eateries don't have to mean a drop in quality.
If you're looking for a smart way to protect a sun burn, or just spend a day away from the ocean, consider a trip to one of Cape Cod's top burger restaurants.
We've narrowed down all of the state's options to this group of 11 award-winners. They were selected based on unique menu items, customer reviews, fresh ingredients, previous awards, and of course, burger quality. Congratulations to all that made our list!
11 Top Burger Restaurants on Cape Cod:
"Good times abound at the Red Nun in Dennisport! Burgers are their specialty but I'm a big fan of their salads too (in particular the Kale Salad and the Thai Salad). They have a great beer and cocktail list with lots of local representation. IMO the best place in the area to watch a game and enjoy a few rounds!" – Google Review
See all Dennis vacation rentals
"This burger is delicious. I got the single patty cheeseburger with "pop's sauce" and fries. The sauce is an outstanding homemade take on Big Mac sauce, but with love and flair. One should never be disappointed here." – Google Review
See all Chatham vacation rentals
"Got take out twice during our week stay in Eastham. Very solid. The veggie burger is home made and very tasty. Salmon entree was great with veggies and pilaf. Cooked to perfection. My wife was very fond of the house burger and southern fried chicken sandwich. We both agreed it was a higher level of food in comparison to other restaurants. Thanks!" – Google Review
See all Eastham vacation rentals
"I was visiting with my fiancee out of state when we stumbled on this small burger place. As someone who has tried many a burger joints this place is great. My burger was absolutely delicious and to top it off we had fresh pretzel bites with beer cheese. I definitely recommend stopping by if you're looking for a quality burger. We were able to sit outside with our dog and the server was extremely nice. 5/5 for me" – Google Review
See all Hyannis vacation rentals
"Great Sports Bar and family restaurant. The place is always hopping especially on weekends and game days. The atmosphere is always great. They are in a perfect area if you want to see a movie and go have dinner or a glass of wine or maybe do some shopping. Whatever the case may be I definitely recommend Bobby Byrne's!!" – Google Review
"This spot is a hidden gem on the cape. Delicious steak and burgers here as well as fresh fish. Can't go wrong with any meal here. Highly recommend. The staff is very friendly and the food is very delicious all at a fantastic price. Will definitely be back." – Google Review
See all Hyannis vacation rentals
"Looking for a finer sit-down dinner in Orleans? If so, please put the Beacon Room on your list. Consistently excellent service and food for many years. The Beacon room has a very welcoming cozy feel that creates the perfect environment to enjoy what the kitchen and bar have to offer." – Google Reviews
See all Orleans vacation rentals
"Nice little pub. My husband and I were looking for a quick bite to eat on our bike ride to the Cape and this place was suggested by a local guy. Had the Captain's Club roll and my husband had a cheeseburger, both were good and came with ALOT of fries. Bartender was nice and quick, will def visit again if we are in the area!" – Google Review
See all Dennis vacation rentals
"Local Burger Bar with miles of charm and maybe the best burger on the cape. Great outdoor space keeps the kids entertained while the food is prepared. Lightning fast and attentive service. I don't give many 5 star reviews, but this place surely deserves it." – Google Review
See all Sandwich vacation rentals
"Cape Cod's best burger, hands down! Always something new to try, but the classics always hang around. Great staff, a perfectly appointed casual atmosphere, and a great value. Gotta try the apps and milkshakes. This place has me hooked." – Google Review
See all Sandwich vacation rentals
"This place is great. My wife and I love to come here at least once a month for an impromptu date night. The food is good and the staff is friendly. Excellent bar specials. Highly recommended. One of my favorites on 134" – Google Review