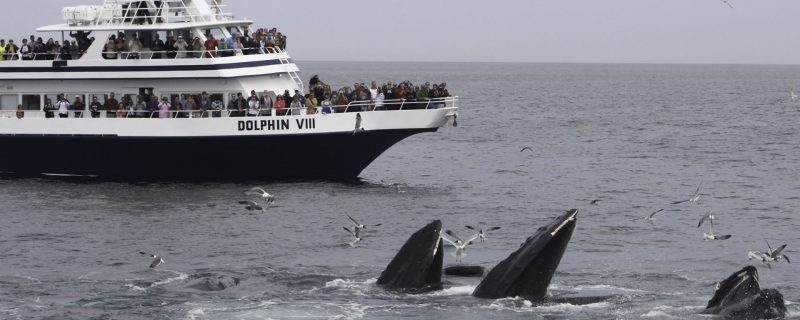 Jump into Provincetown excitement and don't look down! There's so much to do and see here in Provincetown besides a long day on the beach!
From a candy shop to an off-shore boat tour and even an art gallery, the options are everywhere. We chose these award-winners based on based on reviews, offerings, price, location, unique features for kids and families, location, and our own subjective criteria.
Book a trip with any of these activities included and you're on your way to an unforgettable experience. Congrats to our 2021 award winners!
10 Favorite Things To Do in Provincetown, MA
The Pilgrim Monument was founded in 1892 as the Cape Cod Pilgrim Memorial Association—Cape Cod's oldest not-for-profit organization. Its purpose is to commemorate the Mayflower Pilgrims' first landing in the New World in Provincetown, in November 1620. Here the Pilgrims spent 5 weeks exploring the tip of Cape Cod, before they sailed on to Plymouth. They also drew up and signed the Mayflower Compact, which established the rule of law for the new land.
The Cape Cod Pilgrim Memorial Association built the Pilgrim Monument to honor the Pilgrims' first landing in Provincetown. President Theodore Roosevelt laid the cornerstone in 1907. In 1910, President William Howard Taft dedicated the finished 252-foot tower. In 1910, the Cape's first building built to house a museum opened at the base of the monument, to educate the public about Provincetown's role in Pilgrim history and American history.
Today, millions of visitors and generations of local residents have admired and climbed the 252 foot granite Pilgrim Monument for almost 100 years.
Captain John Boats was established in 1946, running daily fishing trips. Captain John Boats now runs whale watching trips, deep sea fishing trips, a fast ferry run to Provincetown, harbor cruises, and private charters departing from the historic waterfront on both the Town Wharf and State Pier in Plymouth, MA, as well as the MacMillan Pier in Provincetown, MA.
Cabot's Candy got its start in 1927, hand-pulling saltwater taffy in small, local fairs. The popularity of this delectable seashore treat led to the opening of a beautiful little store and factory, where we still operate today in Provincetown, MA. Their product lines have grown to include award winning fudge, shockingly good peanut brittle, specialty flavored popcorn, baked goods and so many delicious surprises yet to come. They're proud of our long history of making some of the best salt water taffy around, and of sharing this heritage with generations of folks who come back year after year to share with their own children and grandchildren.
They carry an exciting selection of delicious candy in our store: bin after bin of weigh your own gummies and chocolate covered treats, nostalgic penny candy, fine truffles and chocolate bars, regionally made maple candy and caramels, and so much more.
PAAM was established in 1914 by a group of artists and townspeople to build a permanent collection of works by artists of outer Cape Cod, and to exhibit art that would allow for unification within the community. In 2014, PAAM celebrated its Centennial year, with programming and exhibitions that highlighted significant artists, artwork, and events that contributed to PAAM becoming the vital cultural institution it is today.
Integral to the community comprising the Provincetown Art Colony, PAAM embodies the qualities that make Provincetown an enduring American center for the arts, and serves as Cape Cod's most widely-attended art museum.
As interest in the region's contribution to American art history continues to grow, PAAM presents an ever-changing lineup of exhibitions, lectures, workshops and cultural events that seek to promote and cultivate appreciation for all branches of the fine arts for which Provincetown is known.
Formed in 2001 in Provincetown, in the birthplace of American theater, the primary purpose of The Provincetown Theater Foundation ("PTF") is to encourage, promote, and sustain the performing arts on Outer Cape Cod through a year-round schedule of programming at the Provincetown Theater. The PTF provides performance and educational space for theatrical artists within the Outer Cape Cod community and beyond.
Sail aboard the 30' cutter Moondance II with Captain Ro and Spinnaker, as salty a sea dog as you will ever meet. Your Private Party Cruise, with up to six people, plus sea dogs, begins at the MacMillian Pier. Your own private captain will make every effort to accommodate you and your party. Party members are welcome to try their hands at the helm under Captain Ro's watchful eye.
SeaSalt Charters provides a unique opportunity to explore the whales' feeding and nursing grounds of Stellwagen Bank(just a few miles north of Provincetown, MA., Cape Cod) on a private, comfortable boat with just you, your family, and friends. Operated by some of the most experienced, licensed whale watch Captains in the world, you are assured of a memorable and meaningful experience. With thousands of whale watch trips and dozens of years of experience under their belts, our seasoned Captains know where to find the most active whales whether they are spy-hopping, flipper-flapping, surface feeding, tail-lobbing, babysitting their calves–or if you're lucky- –BREACHING!
In addition to having an exhilarating Cape Cod experience, on a smaller private boat, you are likely to find yourself at eye level with these gentle giants. Whether you are planning on seeing the magnificent, endangered Humpback whales of Cape Cod this summer, hoping to catch a giant striped bass, or if your not quite sure how to top off your New England vacation things-to-do-list, treat yourself to an extra special experience, come out with SeaSalt Charters.
Dolphin Fleet Whale Watch operates four motor vessels (100-foot and larger) out of the port of Provincetown from April to November with the express purpose of providing expertly guided trips out to Cape Cod Bay and Stellwagen National Marine Sanctuary to view marine wildlife including humpback whales and calves, fin back whales, dolphins, basking sharks, sea turtles and pelagic birds which live at sea. Group tours and student field trips are a specialty.
Artists have long been drawn to the Cape, and Provincetown in particular, to capture the extraordinary light one finds there. Provincetown's history as an artist colony is rich and fascinating. The artists who exhibit in the Kiley Court Gallery space continue in this fine tradition, whether they explore the local light through their landscapes or are captivated by shape and form through their still-lives.
The Kiley Court Gallery has been located in Provincetown, in the gallery district, since 1991. The gallery exhibits fine representational paintings, mainly oil paintings, by both local and out-of-state artists. It has become a favorite spot for both visitors and locals to wander through and browse a fine collection of contemporary artwork.
Art's Dune Tours provides a off-road tour experience to our family of visitors through the heart of the National Historic District of the Cape Cod National Seashore Park. The dune tours run from March through mid-November. They strive to provide exceptional service and an informative, fun experience that our customers will cherish. Their most satisfying reward is when our customers come back with their friends and family.
Started in 1946, by Art Costa, the business has remained a family business, now run by Art's son, Rob.