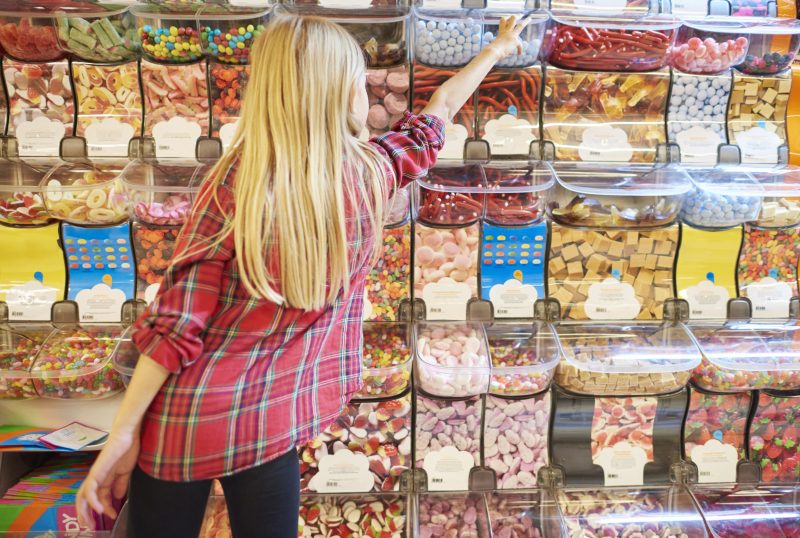 Cape Cod has many authentic New England style homemade candy shops that will fulfill any sweet tooth, any time of the year.  Many are family-run and each offer a unique experience spanning from handcrafted gourmet chocolates to sea salt caramels, old fashioned puff candy, sticky sweet salt water taffy and every kind of gummy candy inbetween!
We have selected the 10 candy stores below based on reviews, unique selections and our own personal experiences. These are not to be missed for a delicious sweet treat!
Originally Published: October 26, 2021
Top 10 Candy Shops on Cape Cod
They carefully handcraft their chocolate from sustainably grown cacao beans. Blending high quality cacao with the purest ingredients available, their chocolate is exceptional in taste and wholesomely decadent.
The Chocolate Sparrow was started, a simple candy shop, in 1989 in North Eastham. In 1991 a summer shop was opened in Wellfleet. Two years later in Orleans, The Hot Chocolate Sparrow opened, a cafe complete with coffee from around the world, desserts of every indulgence, and of course homemade hand-dipped chocolates.
Kandy Korner Gifts has been in business for over forty years and is centrally located. It is both a candy store and gift shop, catering to all ages. Most of Kandy Korner's products are made right on the site, such as their homemade salt water taffy, chocolates, fudge and ice cream.
The Chatham Candy Manor has been a staple in the Chatham community for 65 years now. It is well known for the delicious, hand-dipped chocolates and homemade fudge. A lot of pride is taken in being able to create confections the old fashioned way, via copper kettles and dipped by hand.
Ghelfi's Candies has been hand making premium chocolates for nearly 35 years. A family owned and operated chocolatier, presently guided by Scott Ghelfi, a third generation candy maker. He opened the Falmouth candy store in 1987. They offer an extensive handmade candy selection of premium chocolates.
Family owned Cabot's Candy got its start in 1927, hand-pulling saltwater taffy in small, local fairs. The product lines have grown to include award winning fudge, shockingly good peanut brittle, specialty flavored popcorn, baked goods and so many delicious surprises yet to come.
As a beloved piece of Centerville and Cape Cod, generations of families are still visiting the 1856 Country Store for the old time delights, but this store is so much more than a penny candy store! The Country Store is open year-round and offers a little something for everyone.
Stage Stop Candy has been a Cape Cod destination since opening in March of 1982.  Built on years of tradition, family legacy, and home grown recipes, with a commitment to providing superior confections and exceptional customer service.  Stage Shop follows a tradition of quality candy made by hand in the Dennis Port candy kitchen.
Provincetown Fudge Factory has been making world-famous, original recipe fudge since 1984.  Provincetown Fudge Factory has a tradition of crafting delicious fudge. It's made in small batches using an old-fashioned recipe, made with chocolate liquor, fresh whole milk, cream and butter. These ingredients, along with the expert handling have allowed Fudge Factory to consistently craft a Provincetown favorite.
Their chocolates are made the old fashioned way with a copper kettle, wooden paddle and the finest ingredients. These Cape Codders have pursued excellence in making hand crafted delights, and have shared the joy of chocolate with fellow locals and visitors alike. They have built their business around a coastal ethos: celebrate traditions, and make new ones with friends and family.