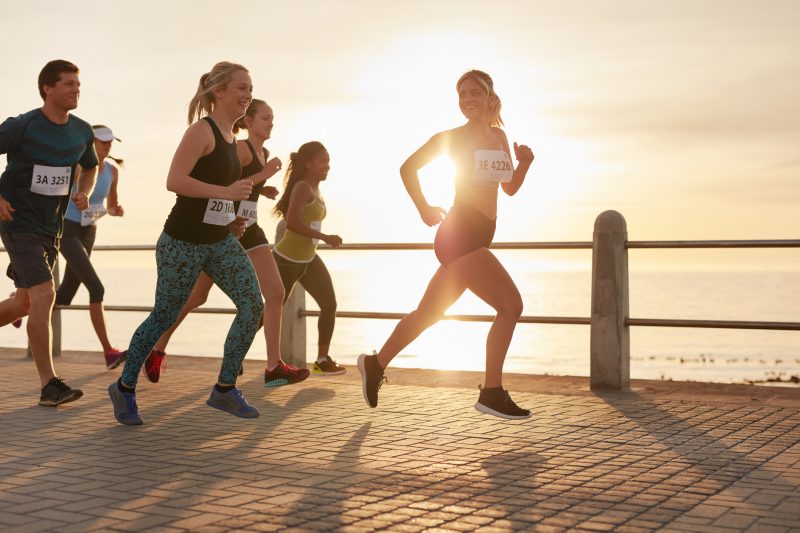 Looking for your next road race? Look no further! The Cape and surrounding Islands have beautiful water views, serene paths and awesome trails. There is undoubtedly something special about that moment right before the pistol signs for a race to start. The crowd is cheering and the sound of excited chatter in anticipation is pulsing through the crowd. Some races like the Falmouth Road Race and ZOOMA Cape Cod are known around the world for their prestige, fun after party, as well as their charitable causes.
Whether you are running for a cause or just running for yourself below are the top 10 races we found on the Cape and Islands!
Originally Published: July 8, 2021 
10 Best Road Races Cape Cod & Islands:
The Falmouth Road Race was established in 1973 and has become one of the premier running events of the summer season. Each year the race draws an international field of Olympians, elite, and recreational runners out to enjoy the iconic 7-mile seaside course. The race ends close to fun restaurants and bars, so get ready to celebrate your accomplishment!
ZOOMA Cape Cod is one of the most popular races in the ZOOMA series and has been recognized as a Top 20 Half Marathon by BibRave and by Runner's World as one of the top races of the year. If you've ever wanted to explore Cape Cod on foot, ZOOMA Cape Cod is the perfect way to do it!
Run the scenic Falmouth coastline this fall. This race starts on Main Street and provides a true Cape Cod experience. They have a Half Marathon, Marathon, Marathon Relay, the second leg of the Chowdah Challenge and the popular Kids Fun Run.
Run on this beautiful island, famous for its natural beauty with miles of beaches. You now have a reason to make this bucket-list destination race your "RUN-CATION." Martha's Vineyard offers two beautiful courses for the relay. The half and full marathon both perfectly showcase this amazing island.
This race is one of the most scenic Half Marathon courses on the East Coast! Set on charming Nantucket Island, the route travels through wooded dirt roads (some with short sandy sections!), tree-lined bike paths, and lightly traveled streets with beautiful ocean views. You may run on roads and see parts of Nantucket you never knew existed!
The annual Beach and Back Half Marathon and 5K is a beautiful run around Mashpee with a great afterparty serving Naukabout Beer!  This race also offers live music and free snack options.
This 5k is run every July and supports the iconic Osterville Village Library. This library has served the community for 140 years and counting.
This race welcomes runners of all ages and skill levels. It begins at First Encounter Beach and continues through the beautiful beaches and landscapes of Eastham. It is professionally timed, with prizes awarded to first place winners.
The swim takes place in one of Wellfleet's many kettle ponds. The bike course consists of two 5-mile loops through one of the most beautiful areas you will ride all year. The run is an out-and-back course that turns right near the famed Beachcomber Restaurant where athletes will catch ocean views before turning at the half-way point.
The course will start and finish at the Bourne Scenic Park.  The course is an out and back, which will run 5k along the Cape Cod Canal.