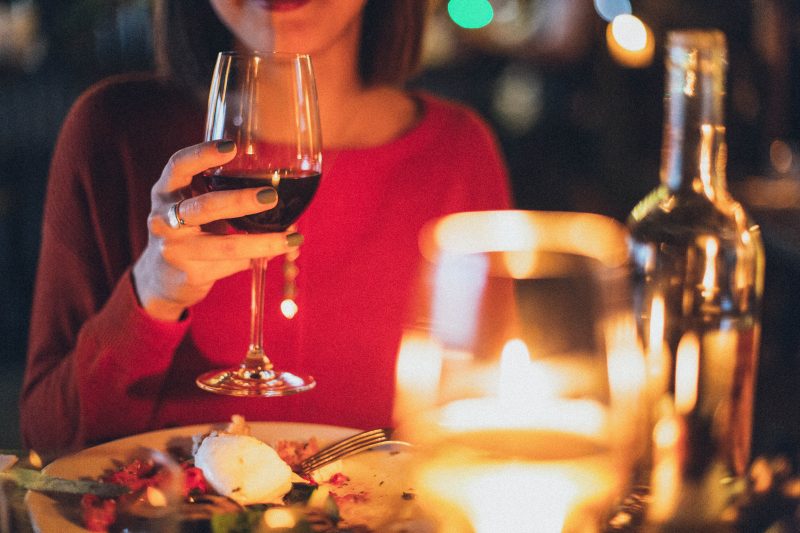 Romance abounds on Cape Cod. From the sunny days laying together on the beach, to the sizzling nights dancing together at a night club, those who want to fall in love, or fall in love again should make Cape Cod a must-visit. We've combed through the most romantic restaurants in the area to select our favorites based on customer reviews, menu, service, and ambiance. So go ahead — split that bottle of red wine and reconnect with someone you love. Make a reservation at any of these award winners today!
11 Romantic Restaurants on Cape Cod:
C Salt is a small, elegant neighborhood restaurant, in Falmouth Cape Cod, focused on globally inspired cuisine with seasonal American produce using classic French techniques. They have an extensive curated wine list and a seasonal craft beverage menu. C Salt Wine Bar & Grille is a comfortable, trendy, Cape Cod restaurant and wine bar, blending American Cuisine with French and Asian influences. They feature a full bar along with various wine and food pairings to accommodate a variety of tastes.
See all Falmouth vacation rentals
The award-winning Belfry Bistro offers a seasonally changing menu highlighting fresh, local Cape Cod ingredients. Whether dining indoors or out on the terrace or garden patio, the Belfry's converted church promises relaxed, laid-back luxury inside New England's most breath taking setting. Also featuring special early dinner menus and wine tastings.
See all Sandwich vacation rentals
Come dine in a romantic colonial setting across from the Cape Cod Theatre and Arts Complex on Route 6A in Dennis Village. Our menu offers a truly special dining experience focused on great food and terrific wine selections.
See all Dennis vacation rentals
Del Mar Bar & Bistro is a cool and friendly nightspot in Chatham for eating, drinking and socializing, featuring native seafood, bistro cuisine and wood-fired, thin crust pizzas as well as popular specialty drinks and a wide range of excellent wines.
Del Mar is proudly in its 11th successful year under the operation of John Zartarian who boasts over twenty years on Cape Cod owning and managing popular restaurant venues.
See all Chatham vacation rentals
"Upscale yet warm French eatery pairs innovative spins on bistro classics with a curated wine list. Always high quality and delicious food. The best restaurant in the area. You will not go wrong." – Zagat Review
See all Mashpee vacation rentals
Water Street Kitchen has always been about the beauty of ingredients, the love that goes into preparing a meal, and the community that comes out of sharing it. Seasonal ingredients inspire a menu that is fresh, made from scratch, full of global inspiration, and yet will remind you of the best home-cooked suppers. Now more than ever, they are dedicated to knowing where and who their ingredients come from and supporting the local food chain by using the best locally and sustainably fished and farmed ingredients.
This intimate, unassuming venue, located in the downstairs of an 18th Century Victorian Building serves nothing short of superb original food presented to you by a marvelous staff. Chef and owners Omar Neil and Marianella Neil curates for you a "Mediterranean-American fusion" menu . They, alongside the original Front Street matriarchs, chef Donna Aliperti, pastry chef Kathleen Cotter, via cooking and wine excursions to Italy and southern France continue to reinvent their dishes in a constantly changing menu, creating a romantic atmosphere.
See all Provincetown vacation rentals
Fin (Dennis)
Fin is Chef owned and operated by Executive Chef, Mike Scarduzio and Maitre d', Kallie Maxim. The couple takes pride in using local ingredients from fish to farm and serving fresh seafood, drinks and more in a two story antique home, as well as an al fresco dining option.
See all Dennis vacation rentals
Nestled on a side street just off Route 28 in Harwich Port, the Cape Sea Grille serves the finest of creative American cuisine. Using fresh local ingredients and native seafood, chef/owner Douglas Ramler creates an ever changing menu that's true to the heart of Cape Cod and New England.
Situated in a 19th century sea captain's home just a few houses from the beach, the restaurant cultivates a relaxed yet elegant atmosphere with white linens, warm candle light and fresh cut flowers. The extensive but reasonably priced wine list offers 20 wines by the glass and 100 bottles.
See all Harwichport vacation rentals
Family owned and operated, The Pheasant is the dream of proprietors Adam & Erica Dunn. At The Pheasant, the focus is on sustainable locally-sourced dining and gracious but approachable hospitality. Their kitchen works closely with local farmers and fishermen to source the best seasonal ingredients to create dynamic and bold flavors and made-from-scratch menus.

They are committed to using only sustainably fished and farmed products and all of the seafood on the menu is wild caught, seasonal, and landed in local New England waters. The style of service at The Pheasant can be best described as casual fine dining: refined and inventive food, with a relaxed attitude.
See all Dennis vacation rentals
"They were able to squeeze us in for a dinner reservation. The staff are amazing, nice location for couples. Very romantic. The food was very delicious. Matthew was kind and kept asking if we were all set. This is a must if you are in the area. Glad we found this place while on vacation. Looking forward to coming again in the future." – Google Review