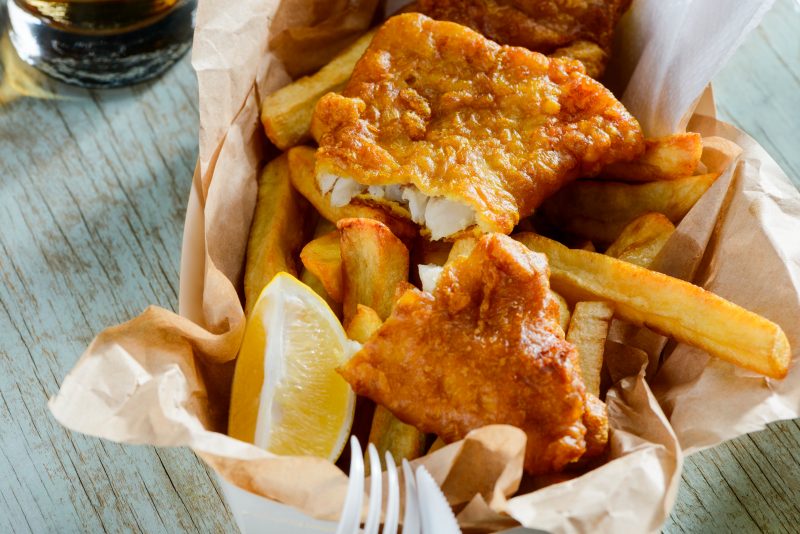 Spring is in the air and the Cape season is getting ready to kick off! There is nothing better than some locally caught seafood when you are visiting this popular New England beach destination. The fish and chips could not be fresher here. There are many restaurants that serve this crispy yet flakey delicious white fish, but we have selected the top 10 you must-try on your next visit this summer!
These 10 restaurant winners do everything right including serving up some of the most mouthwatering fish and chips we have ever tasted. These spots should definitely be added to every restaurant list for the Cape this summer!
Best Fish & Chips – Top 10 on Cape Cod
This staple in West Yarmouth has been around for 40 years! This relaxing spot has indoor and outdoor dining options and fantastically fresh seafood. Their fish and chips is one for the books! You will enjoy every crispy bite.
This spot has beautiful views and incredibly fresh locally caught seafood. They also offer live music and tasty cocktails. The fish and chips is a standout on the menu. This is the perfect spot for an afternoon lunch or dinner at sunset.
Friendly Fisherman has some of the freshest seafood you will find on the Cape. The picnic tables in the back are a great spot to enjoy some seafood and unwind. There is even a little play area for kids to get their energy out. The fish and chips are fantastic, not greasy and the perfect amount of breading.
Cobie's has been open for 75 years! This casual clam shack serves up some of the best fried seafood in New England. Almost everything is locally caught and delicious. They also serve up yummy burgers and hotdogs if seafood isn't your thing!
Skipper Chowder House is one of the oldest restaurants on Cape Cod. This iconic spot has been around for a long time for a reason! The seafood is fresh and perfectly prepared. The clam chowder is award winning and the fish and chips are of course nothing short of incredible!
This special restaurant has been around since 1957. They offer the freshest seafood in a casual waterfront setting. The restaurant actually sits over the water (so cool!) and has a dock attached that boats can pull up to grab a bite. They also have indoor seating and some of the best Bloody Mary's around!
This cozy restaurant and market offers terrific seafood, desserts, soups and more! You will not be disappointed with the selection here. This restaurant is family owned and operated – offering only the best ingredients since 1938.
Open for 71 seasons this staple in Dennis Port serves the freshest local seafood. They offer an authentic New England experience. They have an outdoor patio to enjoy the beautiful Cape summer weather and lots of tasty food options that will keep you coming back again and again!
Captain Frosty's is another iconic Cape staple. The fried seafood is award-winning and the Atlantic Cod is delivered daily. Talk about fresh! The fish and chips are phenomenal and made with this local cod.
Fish & chips is in their name and it's no wonder they are so well known for this classic dish. They offer some fantastic fish and chips for some incredible prices. You will not want to miss out on this spot next time you are in Orleans.