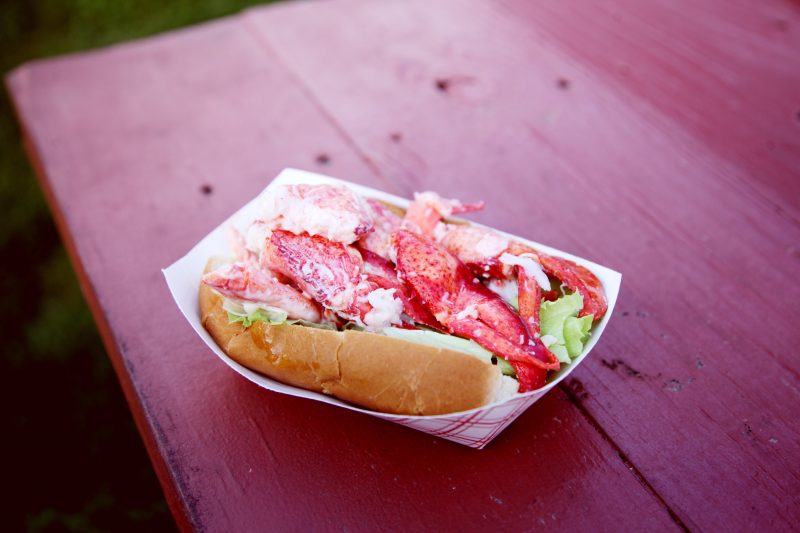 Cape Cod's selection of fresh delicious lobster rolls is second to none. After a day of shopping, or frolicking on the beach, or hanging out at your vacation rental – you're probably famished and ready for a delicious meal. But with so many options for lobster rolls on Cape, how do you choose? That's where we come in.
We want to help hungry travelers by sharing our favorite 12 lobster rolls on Cape Cod for 2021. The service, the taste, and the reviews from previous customers put these restaurants over-the-top and onto our list. Congratulations to the winners!
Best Cape Cod Lobster Rolls:
For over 40 years, Arnold's Lobster & Clam Bar has served only the freshest fried seafood, lobster rolls, raw bar and premium gourmet ice cream on Cape Cod. At Arnold's Lobster & Clam Bar you'll find affordably priced fresh seafood with other tasty (even healthy!) fare to satisfy everyone's palate. From fried seafood to baked seafood dinners, crispy fried onion rings to fresh salads, creamy chowder to our famous 50s angus burger and foot-long hot dog—there's something for everyone at Arnold's!
"If you're in Cape Cod, Captain Parker's is a place you MUST eat at! They have the absolute best clam chowder in the area, and so many great options for food. They are well worth their price and even when they're busy the wait isn't ever that long. Their lobster selection is great and both their warm and cold lobster rolls are delicious. Even when doing take out, the food is still just as good, but nothing beats the experience inside." – Google Review
From the Facebook page: We are a family owned and operated business entering our 15th season. The Cafe serves breakfast, lunch and dinner daily from April to October. We are located in Northside Marina overlooking Sesuit Harbor and the beautiful Cape Cod bay in Dennis, MA. We are an outdoor cafe with numerous picnic tables that overlook boats coming in and out of the bay, with breathtaking sunset views.
We are proud to have received an award from The Boston Globe for our sumptuous overstuffed lobster rolls, served with french fries and coleslaw. Our commitment is to fresh "local" seafood which gets delivered daily to our back door, from our local fisherman.
Our new bakery and Raw bar which we added last year have become quite popular. Fresh homemade scones and pastries made fresh daily and homemade desserts you can't resist. Cakes are also made for any of your special occasions, upon request. The Raw bar is full of fresh local seafood such as scrumptious oysters, clams, shrimp and so much more!
Quahog Republic is a casual eatery – with locations in Falmouth and Onset – that offers delicious food made from local ingredients. Their most popular dishes include their monsta' lobster rolls, fish and chips, stuffed quahog, cubano sandwich and clam chowder. In addition to our delectable food, they also have an impressive array of beer on tap and specialty cocktails, including a Bloody Mary with bacon and a Cask-aged Mai Tai.
For 45 years, Captain Frosty's has been serving award-winning fried seafood, like fresh Atlantic Cod – delivered daily – along with native fried clams & local day-boat scallops. Plus fan favorites like meaty lobster rolls, hand-cut onion rings, homemade clam cakes and more. Order food to-go, grab a booth inside, or relax outdoors on their shaded patios.
"We visited here twice during out trip. Food was good both times. Lobster roll and clam chowder were good. Sword fish on point!! If it's a nice evening get there early to get a table outside. The view is very pleasant!" – Google Review
"Good food, very Cape Cod, in a great little spot. May not be waterfront dining, but the food sure makes up for the view! The lobster rolls are loaded with claw meat and the fried clams and oysters were spectacular." – Google Review
"I have never written a review before but this is worth all the effort of starting. I have been to Cape Cod a few times, and this has been the best restaurant by far. I had the $1.50 oysters, the Portuguese muscles, and the lobster quesadillas. I can honestly say that these were the best foods individually I have ever had at a restaurant. We were also served by Maureen, and she was so thoughtful, helpful, and asked the questions we wanted before even asking! Seriously recommend this place." – Google Review
"Fresh Cape Cod seafood combines with spectacular waterfront sunsets and friendly service at this family-owned landmark for over 50 years. One of a handful of Cape restaurants with its own dock for hungry boaters to tie up at, come ashore, and enjoy great drinks and food in a casual atmosphere. This is the iconic place you dream of when coming to Cape Cod. Lobsters, Fish & Chips, and award-winning clam chowder, all with a view that can't be beat!" – Google Review
Relax and enjoy the spectacular views from the decks of the "Lobster Roll" dinner cruise ship. Glide through the calm waters of Sesuit Harbor and into the serene beauty of Cape Cod Bay with its incredible sunsets and picturesque coastline. Let them tempt you with your choice of fine foods artfully prepared on board. Their state of the art galley has been designed to prepare the freshest menu items available. Enjoy your favorite frozen drink, cocktail, wine or beer from either of the two upper or lower deck bars.
This casual waterfront restaurant is located right on the docks of Hyannis Harbor. Dine inside, where the look is classic seaside style, or outside on their heated patio while watching the boats sail by. Their menu features everything from thick, juicy burgers and garden-fresh salads to fresh native seafood and award-winning lobster rolls. Serving lunch, dinner and Sunday brunch with entertainment four nights a week in the lounge.
The Wee Packet Restaurant opened its doors in 1949 and has been serving loyal customers for the past 70 seasons. Always aiming to please, they strive to provide an authentic Cape Cod experience for your family and friends. They are located minutes away from the popular Dennis Port beaches and serve the freshest of local seafood.
Serving three meals daily (in season), guests can enjoy a hearty Irish breakfast complete with a grilled tomato and baked beans, a hot lobster roll with homemade cole slaw for lunch, or a full clambake with all the fixings for dinner. They also offer a varied kids menu featuring healthy choices for the wee little ones 10 and under.