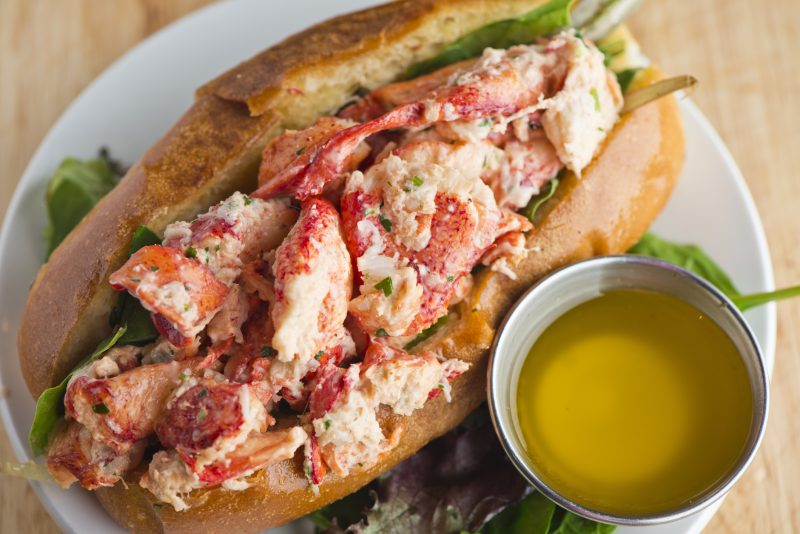 Cape Cod's selection of fresh delicious lobster rolls is second to none. After a day of shopping, or frolicking on the beach – you're probably famished and ready for a delicious meal. But with so many options for lobster rolls on Cape, how do you choose? That's where we come in.
We want to help hungry travelers by sharing our favorite 12 lobster rolls on Cape Cod for 2023. The service, the taste, and the reviews from previous customers put these restaurants over-the-top. Congratulations to the winners!
Originally Published: August 12, 2021
Best Cape Cod Lobster Rolls:
For over 40 years, Arnold's Lobster & Clam Bar has served only the freshest fried seafood, lobster rolls, raw bar and premium gourmet ice cream on Cape Cod. Everything here is delicious. It gets crowded though, so make sure to get here before the meal time rush! 
Captain Parker's is known to have some of the best clam chowder on the Cape. There are so many great fresh seafood options. The warm and cold lobster rolls are unbeatable. If you're looking for a true New England feel this is your spot.
This local favorite is family owned and operated. The Cafe serves breakfast, lunch and dinner daily in season. They are an outdoor cafe with numerous picnic tables that overlook boats coming in and out of the bay. You won't want to miss the breathtaking sunset views or the overstuffed lobster rolls. Only fresh local seafood is served here! 
Quahog Republic is a casual eatery – with locations in Falmouth and Onset – that offers delicious food made from local ingredients. Their most popular dishes include their monsta' lobster rolls, fish and chips, stuffed quahog and clam chowder. All the classics have been made to perfection! 
For more than 45 years, Captain Frosty's has been serving award-winning fried seafood, like fresh Atlantic Cod – delivered daily – along with native fried clams & local day-boat scallops. The lobster rolls are incredible and not to be missed. 
This casual waterfront bar and restaurant serves up fantastic lobster rolls and local seafood. They are open seasonally for lunch and dinner. 
The lobster rolls here are filled with claw meat. The fried clams and oysters are also spectacular. This restaurant is definitely a hidden gem you will want to discover this summer.
The Oyster Company boasts a farm to table experience. Everything here is local, fresh and mouth watering. The $1.50 oysters, lobster rolls and so much more make this place worth the trip! 
This family-owned landmark has been around for more than 50 years. Whether you are looking for a lobster roll or to sample their award winning clam chowder – this spot will wow you! The waterfront views are also spectacular. 
Relax and enjoy the spectacular views from the decks of the "Lobster Roll" dinner cruise ship. Glide through the calm waters of Sesuit Harbor and into the serene beauty of Cape Cod Bay with its incredible sunsets and picturesque coastline.
This casual waterfront restaurant is located right on the docks of Hyannis Harbor. Dine inside, where the look is classic seaside style, or outside on their heated patio while watching the boats sail by. Their menu features everything from burgers and garden-fresh salads to fresh native seafood and award-winning lobster rolls. 
The Wee Packet Restaurant opened its doors in 1949 and has been serving loyal customers for the past 70 seasons. Always aiming to please, they strive to provide an authentic Cape Cod experience for your family and friends. Serving three meals daily (in season), guests can enjoy a hearty Irish breakfast complete with a grilled tomato and baked beans, a hot lobster roll with homemade coleslaw for lunch, or a full clambake with all the fixings for dinner.