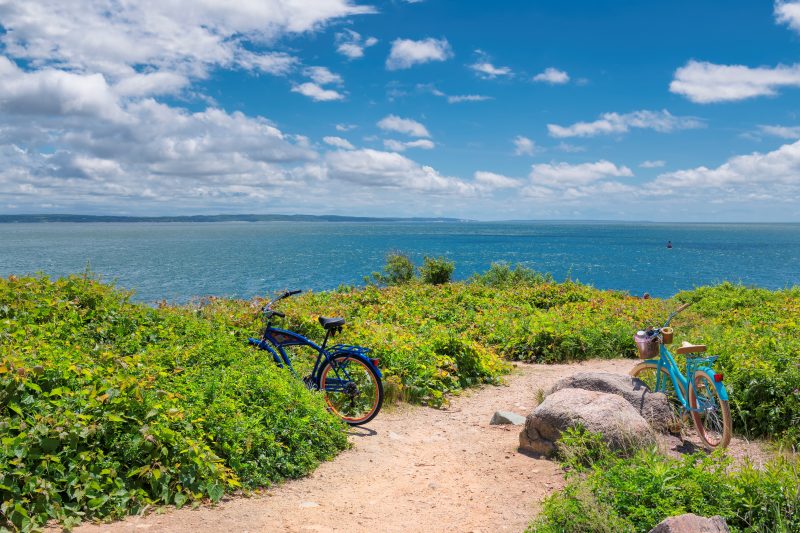 The Outer Cape has beautiful beaches, but it also has so much to do without even stepping foot in the water. The towns of Wellfleet, Eastham and Truro (to name a few) have lots of options like biking, theater, bird/animal watching, art galleries, shopping and delicious food!  The Outer Cape feels less touristy and more like an escape into nature with the big waves on the ocean side, high-reaching sand dunes on the bay side and laid back atmosphere throughout the town centers.
We selected the top 13 things to visit on the Outer Cape below based on reviews, what they uniquely have to offer and our own personal experiences.  They should all be added to your bucket list!
Top 13 Things to Do on the Outer Cape:
Mass Audubon is the largest nature-based conservation organization in New England.  Wellfleet Bay provides peace and unmatched beauty on the hillsides and shoreline overlooking Wellfleet Harbor. Extensive trails bring you to a panoramic salt marsh, sandy barrier beach, and pine woodlands, each attracting a wide array of wildlife. The sanctuary features a universally accessible trail and an award-winning "green" nature center with numerous exhibits and aquariums.
Nature Center open Tuesday-Saturday, 9 am-4 pm; Trails open daily, dawn to dusk.
The fun family entertainment complex features Cape Cod's ONLY drive-in theatre, with First-run Double features on the 100′ screen every summer night! They are open from Memorial Day through a little after Labor day.
They also have 4 indoor screens, flea market, dairy bar & mini golf.
PJ's (Wellfleet)
Fresh local seafood, burgers, salads, homemade items, including onion rings, clam chowder and crab cakes and lots of local favorites.
"Excellent cold lobster meat with mayo on a butter grilled bun. The Jumbo lobster roll is fantastic and I am sure one of the most delicious lobster rolls you can find in New England." – Google Review 
"Good food, fast service, and nice outdoor seating (with heaters)." – Google Review 
"Easily best lobster roll, onion rings, and oyster roll. Lobster roll had plenty of meat and not too much mayo, with no fillers." – Google Review 
The Wellfleet Harbor Actors Theater offers several plays and musicals each summer.  Check out their website linked above for all the offerings and their Covid guidelines/procedures.
"It's worth the trip to Wellfleet." – Boston Globe
"Just go. It may be the best theatre you'll see this decade." – ptownie.com
"It is a pleasure to see contemporary work of this caliber being presented on Cape Cod" – Cape Cod Times
The Highland Lighthouse tower will be closed for major structural repairs until 2022.  The Highland Lighthouse is owned by the National Park Service as part of Cape Cod National Seashore, and is located in North Truro, Massachusetts. Guided tours and the Highland Light Museum Store are operated by Eastern National, a not-for-profit partner of the National Park Service. The United States Coast Guard operates the light itself.
You can shop a curated selection of best selling products from the Highland Lighthouse Keeper's Shop and other Cape Cod destinations at the America's National Parks™ Online Store, where your purchase supports the parks!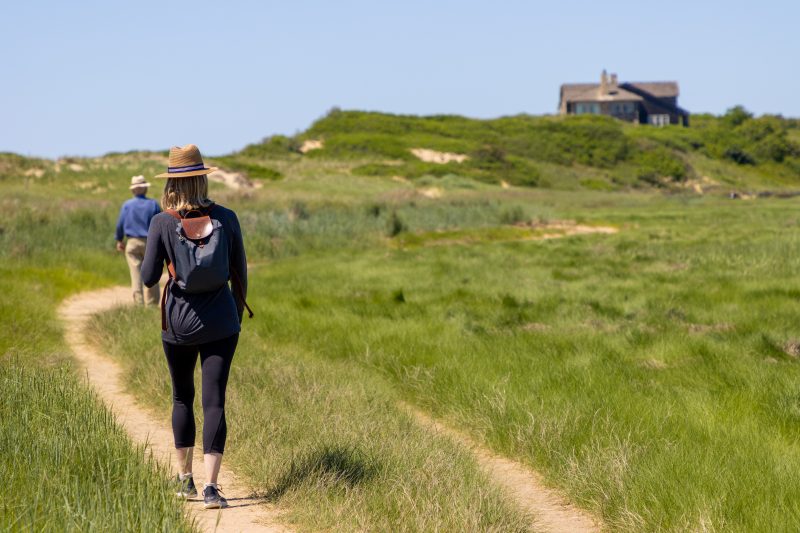 Established in 1971, Left Bank Gallery at 25 Commercial Street, Wellfleet, is spacious, unconfined, and tactile. A continuously rotating collection of paintings – from lyrical abstract to "plein air" realism, all with the power of engaging the viewer – are punctuated by lofty, gestural mobiles.  Acting on the idea that art should be part of our living environments, owner Audrey Sherwin Parent pairs canvases and sculptures with functional ware for the home. Individual spaces are designed with handcrafted lighting, vessels and furniture.
Idle Times Bike Shop Inc. is a full service bicycle business with four locations to serve all of your bicycling needs, including individual bike rentals and group rentals.  Direct access to the bike path and great parking at the 3 Idle Times Bike Shop locations. Families with children and beginning cyclists can easily get to the bike path by walking your bikes or riding to the path on sidewalks off the road.
ARTichoke offers their own unqiue designs, hand pulled on some of the softest garments available.  The Beachy-Boho boutique also has a wide variety of fun products including jewelry, beauty products, home goods, sunglasses and art.  This shop is one you must check out in this area.  Their items are truly unique and amazing quality.  I have personally shopped there many times!
Since 1983 Moby Dick's has been THE Cape Cod seafood restaurant for friends and families to eat and have a good time. They take the New England clam shack to a new level, offering you and your family a great experience, and the freshest and best seafood on Cape Cod.  Moby's is BYOB.
"A great meal at decent prices. Service was outstanding and the food was delicious. Make sure you order the Key Lime for dessert. One the best ones I have ever had." – Google Review 
Had an amazing lunch at Mobys. Sat outside and brought the dog too! Quick service, and cool atmosphere. I had to try the lobster roll and I was not disappointed! It was the largest lobster roll I've ever had. Huge pieces of lobster. It was amazing. We also tried the fish and chips , oysters and a crab cake. Everything was absolutely delicious , I'll miss this place until we come back! – Google Review 
The Frying Pan Gallery was opened in 2009 in a 100 year old oyster shack on Wellfleet Harbor that had previously been boarded up for over 50 years.  The building was saved from the wrecking ball by Cape Cod steel sculptor/architectural designer Steve Swain. The gallery is curated and run by Steve Swain and his wife, local musician Sarah (Sarah Swain & the Oh Boys).
Sarah is passionate about creating a welcoming art space that features the work of Steve and the 20+ local artists; painters, jewelers, ceramicists, photographers and glass artists.
Handcrafted silver and gold jewelry made in our Wellfleet workshop, featuring beautiful gemstones, native oyster pendants, and original designs.  The Jewelry Studio is located at 15B Bank Street in Wellfleet. The building was formerly the studio of well-known painter Javier Gonzalez and subsequently a glassblower's workshop before becoming the Jewelry Studio. Visit the shop and studio, open year-round, and see how they make their handcrafted jewelry!
Enjoy staying in a beautiful pine woods with the touch of an ocean breeze. Whether you rent a cottage, pitch a tent, or bring your trailer, Maurice's offers the total Cape Cod Nature experience. Maurice's is nestled next to the National Seashore. Crystal clear ponds and world renowned bay and ocean beaches are minutes away.
Just around the corner from downtown Wellfleet, The Flying Fish restaraunt has served delicious breakfast, lunch and dinner for over ten years.  The Flying Fish offers bistro-style dining highlighting local seafood, burgers, and Caribbean flavors. Breakfast, lunch and dinner are served in a recently refurbished charming dining room.  The outdoor patio is a local favorite, where diners can enjoy a leisurely cup of Beanstock coffee and Wildflour Bakery muffins, scones, and more.