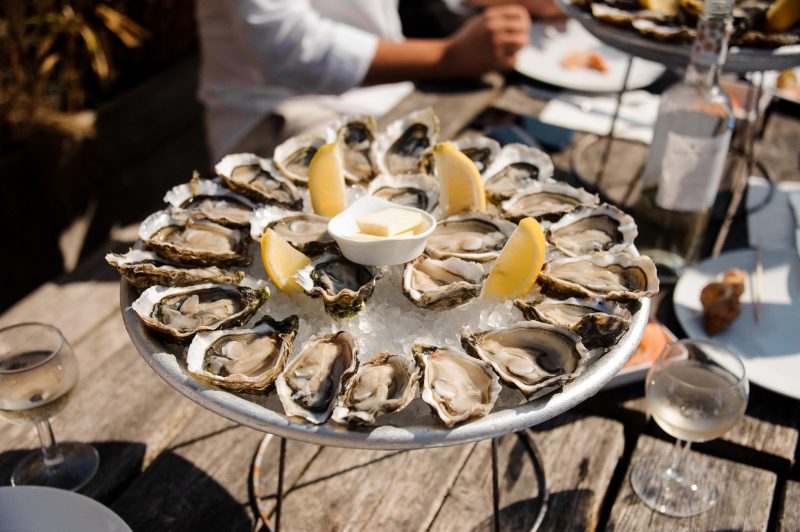 The Cape has some of the freshest seafood, so it is no surprise that they also have some of the best restaurants with the most amazing raw bars. After a long day in the sun fresh shucked oysters, shrimp, crabmeat and homemade cocktail sauce are what dreams are made of in New England.
We found the 11 best restaurants on Cape Cod to enjoy some delicious cold and fresh local seafood this summer!
Top 11 Raw Bars on Cape Cod
This landmark spot has been around for over 40 years! They are an award-winning clam shack with some of the best seafood. You will often see lines here – so get here early. They offer top notch fried seafood and an incredible raw bar selection.
This special spot is located on the water and is an experience in itself. Everything is locally caught and amazingly fresh. They have a great seafood selection and prepare from raw to fried with perfection.
This outdoor oasis opens soon for the summer and is a hidden gem not to miss! They have insanely fresh seafood, an amazing raw bar and live entertainment all season long.
This iconic restaurant has been open and serving the freshest seafood for over 40 years. The menu is locally caught and the vibe is laid back. They offer a great raw bar selection and great service. This is a spot not to be missed!
This historic restaurant offers a variety of fresh, local and seasonal dishes. The seafood is unbeatable. The interior is eclectic with local art to look at while you enjoy the incredible raw seafood and other inventive dishes.
Pearl (Wellfleet Harbor)
Pearl is one of Cape Cod's premier waterfront dining destinations. They offer fresh local seafood, an incredible raw bar and a live music seafood happy hour. They have amazing views of Wellfleet Harbor, which also makes this a great spot to enjoy a fantastic meal at sunset.
Raw Bar will be opening soon for Spring. The seafood is fresh, local and tasty. The raw bar includes freshly shucked oysters and everything delicious. They also have a colossal lobster roll that is not to be missed!
Epic Oyster is known to "shuck to order" – you can't get much fresher than that! This restaurant has a rich history with the building dating back to 1922. The menu is fresh local seafood with a twist of inspired Portuguese flavors.
Trader Ed's has great local seafood and fun frozen tropical cocktails. They offer live music and dancing during the summer. You can also book a Clambake here! The outdoor seating overlooks the Hyannis Harbor and is a great place to enjoy a beautiful Cape sunset.
This restaurant is great for an amazing seafood meal and people watching. They have a spacious indoor dining room and lots of outdoor seating. They even have a takeout window if you just want to grab your seafood and go! This is a perfect stop for some ultra fresh seafood after some shopping downtown.
This family owned restaurant only offers the freshest locally caught seafood and meats. They have a back patio that is great day or night. The raw bar is phenomenal. You will not want to miss this spot on your next trip to Wellfleet!