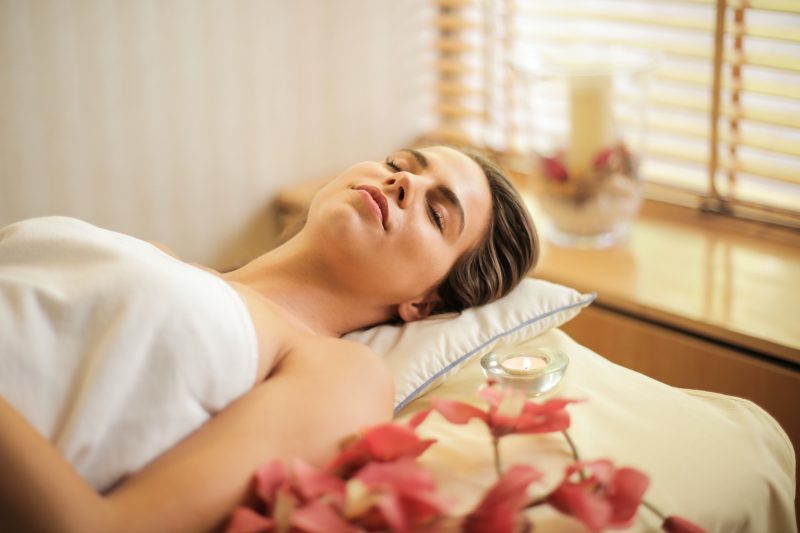 Ever hear the phrase "I need a vacation from my vacation"? For some, running around finding the hottest activities and getting a surge of adrenaline is not their idea of a stress-free trip. And although Cape Cod has endless opportunities for recreation, there are also hundreds of options for low-key relaxation as well.
A 2010 Stanford Research Institute study estimated that wellness tourism is a growing $106 billion industry. We've combed through hundreds of spas on Cape Cod and the Islands to create our list of our favorites.
We highly recommend stopping in to any of these 10 award-winners to enjoy a Cape Cod vacation away from the hustle and bustle, and one that will leave you feeling incredibly zen on your return trip!
10 Best Spas on Cape Cod:
Discover a soothing and restorative escape for body and soul at The Spa at Chatham Bars Inn. Experience Cape Cod's finest in luxury treatments and amenities including 12 adults only spa suites offering hydrotherapy tub, steam shower, private sauna and many are equipped with fireplaces etc.
"Wonderful ambiance with attentive service. Tides massage was lovely. Would love to come back in warm weather to enjoy the outdoor space." – Google Review 
See all Chatham vacation rentals
With two locations on Cape Cod, in Hyannis at the Cape Codder Resort and in Sandwich at the Dan'l Webster Inn, the trustworthy professional staff of the Beach Plum Spa are here for you. This full-service spa offers day and overnight packages for every client, and they're happy to custom fit one to meet your needs. Their body products and oils have been carefully chosen using the finest ingredients to achieve the highest level of results. They use the most results-oriented skin care lines in the industry coupled with treatments using state-of-the-art equipment to achieve your skin care goals. Their professional staff is licensed and ­continually trained in the most advanced spa methods.
See all Sandwich vacation rentals
Le Petite Day Spa invites you to experience and enjoy a complete mind, body and soul make over. Located in the heart of Chatham, Massachusetts, the epicenter of Culture and Prestige on Cape Cod, the moment you enter Le Petite Day Spa you will be impressed with the elegant surroundings and the relaxing atmosphere. The number one goal of all the staff at the Spa is 'customer care'. At Le Petite Day Spa they are committed to providing the most professional, personal, state of the art, relaxing and invigorating experience to all of their customers. Le Petite offers a variety of top rated massage and skin treatments. Experience the latest innovations in massage therapy, hot stone massage, manicures and pedicures and facials. Staying on the cutting edge of the spa industry is what makes Le Petite Day Spa unique from all others.
See all Chatham vacation rentals
Sol Spa is the home to expert bodyworkers with backgrounds in massage therapy, shiatsu, physical therapy, nursing, chiropractic assistance, acupressure, personal training, yoga therapy, and muscular rehabilitation, as well as other adjunct therapies.  They work closely with area physicians and holistic practitioners in maintaining our clients' health and well being via their physical structures. Their goal is to assist the body in maintaining proper function of the musculoskeletal system. Their backgrounds in biomechanics and energy medicines complement to create a true whole health spa experience.
From the moment you walk in the door, their focus is on your complete relaxation. Not only do we focus on the physical body, but also help with your mental and spiritual wellness too. Their spa treatments designed for the health of your skin are great services to include with your structural alignment goals.  From salt scrubs to seaweed wraps, their services are a great way to take a step back from the bustle of everyday life.

See all Chatham vacation rentals
"I love Solstice! The staff are very friendly and professional, the space is clean and comfortable, and the spa options are unbeatable— waxing, facials, massages, nails, and hair. It's been my "MeTime" place for years and will continue to be!"  – Google Review
See all Hyannis vacation rentals
Bellezza is widely acknowledged as the finest salon, spa, and medspa on Cape Cod. Talented and experienced professionals maintain a friendly, welcoming atmosphere in sophisticated, luxurious and deeply relaxing surroundings.
"Norma is superb! Offering tremendous knowledge, coupled with technique and a strong touch, the results were immediate. From constantly checking in about pressure to the relaxing, clean massage room you will be in a state of relaxation and comfort the moment you walk through her doors. Highly recommend to any in the area (and beyond)!" – Google Review
Welcome to Provincetown's premier therapeutic massage + bodywork studio. Established techniques of Deep-Tissue, Swedish and Sports Massage are combined with various other modalities to form a unique bodywork treatment that will appeal to both the novice and experienced alike. They are innovative and pride ourselves on a long list of satisfied clients since 1991.
Each of our Treatment Rooms has been designed for ease and comfort with pleasing curved walls and state-of-the-art equipment. Breathe, relax, let go, stretch and surrender the stress, aches and pains… and breathe again. Their goal is to provide you with the finest, most effective and most professional therapeutic and healing experience.
See all Provincetown vacation rentals
Are you tired of your stressed-out life? Visit this spa haven and allow yourself to breathe slowly. It's time to finally let go. Body Sense Day Spa offers treatments in majestic settings, giving you the opportunity to nurture your mind, body, and soul. Their goal is to attend to your wellness needs in a personal and attentive way. Your relaxation is in good hands.
Whether you need a massage, a facial, skin care products, a pedicure or a manicure they are here to give you the ultimate spa experience on Cape Cod. 
See all Hyannis vacation rentals
Unique Salon & Spa is a full-service beauty salon and Cape Cod day spa dedicated to consistently providing a high level of customer satisfaction by delivering excellent service, 100% natural products, comfortable furnishings, and an enjoyable atmosphere.
They provide all our services, pampering, skills and relaxation at an exceptional value. They also strive to maintain a friendly, fair, and creative work environment, with respect to diversity, ideas, and hard work. Their staff has years of experience and training and continues to stay up to date on the latest and greatest techniques and products.
You can come in for something as simple as a haircut, or you can take advantage of other services and spend a half or full day with us. You could come in for a new hairstyle and highlights, then have a facial that will leave your skin supple and glowing. Then a deep tissue or hot stone massage, then a manicure and pedicure.
You will leave feeling relaxed, stress free, pampered, and beautiful. Now don't you deserve that!