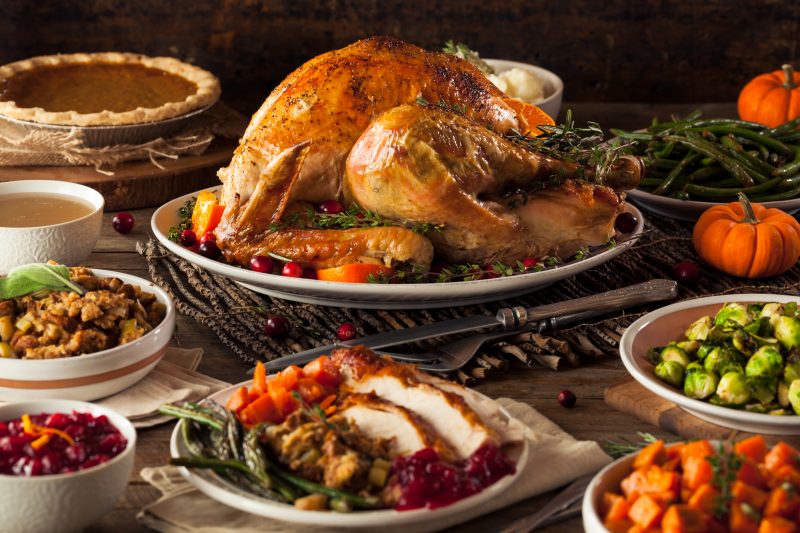 Thanksgiving is a holiday that brings people and families together with a big delicious meal. However, this meal is also A LOT of work, so why not go out and leave the cooking to someone else? The 10 restaurants below located throughout the Cape each offer a unique experience and delicious Thanksgiving menu. They are also great to dine at any time of year.  No stress, no clean-up and options that will please everyone's palette!
We have rounded up our top 10 Thanksgiving restaurant picks based on reviews, menus, availability and our own personal experiences. We did the leg work for you and they are all a must-try!
10 Best Restaurants for Thanksgiving on the Cape:
The Inn is proudly recognized as a Distinguished Restaurant of North America, placing it in the top 1% of restaurants in the country.They serve breakfast, lunch, dinner in four distinctive dining rooms as well as the cozy Tavern.  Four lovely dining rooms offer a choice of settings; candle-lit rooms, fireside dining in the Music or Webster Rooms garden-side dining in the sun or moonlit Conservatory, cozy dining in the tavern or au natural dining outside on the all new Marshview Terrace or on the patio (seasonal).
Traditional favorites such as the most tender prime rib and filet mignon, are served alongside creative, contemporary entrees and seasonal dishes from the rotating Chef's Special Menu. The connoisseur's wine cellar, recipient of The Wine Spectator's prestigious Award of Excellence, features wines that will please even the most discriminating guest.
"Fantastic! Food and service was excellent. Beautiful surroundings." – Google Review 
"Great dining room with a view of the outside coy pond and waterfall. Good selection of surf and turfs." – Google Review 
The daily changing menu represents the best of what the local markets have to offer. A passion for sourcing fresh ingredients from local farmers and suppliers, combining with traditional flavors and rewriting familiar recipes into exceptional cuisine is the mission and greatest joy of Old Yarmouth Inn.
"Four of us had the most delicious meal last night. The Seafood trio was luscious and cooked to perfection. The short ribs were the best I've ever had-not overly sauced-meat exceptionally tender. Delicious garlic mashed potatoes. The onion soup is also superb -not overly salty like so many places. Salads were fresh. And the service was also exceptional. You can't go wrong dining in this lovely historic Inn." – Google Review 
The Yarmouth House is a Cape Cod favorite casual fine dining restaurant.  The restaurant was founded in 1978 and is rich in history and a family run establishment.  They offer a delicious 3-course Thanksgiving meal.
"Always an amazing meal and impeccable service. Tonight our server was Cvetko, and we appreciated his attention and professionalism.The meal was extraordinary, from apps to dessert. A traditional, yet creative menu. The cocktail menu is also amazing. I want to go back more often to try more. Thank you Yarmouth House for the perfect night cap to our Cape Cod vacation!" – Google Review 
Established in 1938, Wimpy's Restaurant offers classic Cape Cod fare featuring fresh seafood and creative comfort cuisine. The comfortable atmosphere includes a lively pub, two fireplace dining rooms, and a Seafood Market with takeout. Located in the charming seaside village of Osterville, Wimpy's strives to please each guest with the best dining experience possible.
For Thanksgiving, Wimpy's offers a wonderful takeout menu.
"Wimpy's may be the name but their portions are anything but. Prime Rib, fresh Seafood, Chicken ..Cozy. Cheers like ambience in the bar to watch a game and eat their scrumptous clams casino or Chili on a cool day. But my favorite of all is their sherry laced chowder. It is the best on the Cape. Or anywhere. Look forward to visit when I am on the Cape. Love this place!" – Google Review
Brax Landing Restaurant has been a staple for visitors to Cape Cod for decades. Situated overlooking scenic Saquatucket Harbor, Brax boasts breathtaking views and mouthwatering meals, featuring fresh local seafood favorites.
"Found this restaurant on our last night in Cape Cod. Really wish we had found it prior. Delicious clam chowder, french onion soup and lobster roll. Crab cake sandwich was delicious and so was the fisherman platter. The steak tips were marinated and so tender and cooked to perfection." – Google Review 
The Mezza Luna Restaurant is a 3rd generation run family Italian Restaurant located on Main Street in Buzzards Bay at the foot of the Bourne Bridge and celebrating 84 years in business in 2021. Specializing in Italian cuisine, seafood, steaks and chops, fresh nightly specials, and a lunch menu that's the best deal in town. They have multiple rooms for private functions, outside dining in the summer months, and a full bar and lounge area.
"The place was very busy but we were able to get seated without waiting. Veal parm was thin, tender and gravy was very tasty. Homemade Cavatelli was cooked perfectly. My husband had their famous prime rib. It looked delicious. He said it was so tender it cut like butter. Portions were huge. Overall experience was great." – Google Review 
Complete Dinners! Each Thanksgiving Dinner comes with Corn Chowder OR Garden Salad, Mashed Potatoes, Butternut Squash, Peas & Onions and Fresh Baked Bread PLUS Choice of Dessert: Pumpkin Pie, Apple Crisp or Indian Pudding
Roast Turkey Dinner – Roasted turkey with their very own cranberry sage dressing, fresh-made turkey gravy and cranberry sauce. Seconds are on them, and you'll be sent home with a Turkey Sandwich on fresh baked bread!
~ Prime Rib & Broiled Scrod also available ~
Chillingsworth is housed on the 300 year-old Chillingsworth Foster estate in the beautiful, historic and quaint town of Brewster, Massachusetts.  Set among six acres of lawns and gardens, it has been the Cape's premier restaurant for more than forty years. Chillingsworth features both a multi-course award winning menu and also offers the menu items a la carte.
"The perfect place for dinner. A must for visitors and locals alike. Chillingsworth has a charming and delightful garden location or eat inside the antique home. We sat in the garden room surrounded by geraniums. The food is sublime, we had gazpacho, foie gras, truffle risotto and grilled duck. Everything was cooked to perfection. We finished with Angel cake and sticky toffee pudding. Delicious!" – Google Review 
Born out of the Provincetown Mews Food and Wine Society, the Mews was started in 1964 with the goal of providing guests with a comfortable place to enjoy good food and drinks.
Bistro – The Cafe or Upstairs Dining Room, is a lively room with a relaxed vibe that looks out on the beach with an amazing view of the bay.
Beach Level – Look out the French doors or full-length windows and you will think that you are right on the beach. This dining room is a little quieter – perfect for conversations and sharing time with friends and family.
"Had their veal it was moist and cooked to perfection. The cocktail was the bloody French martini and was delicious! Key lime pie was the right amount of sweetness, lime taste without being over powering and smooth. Sat out on the deck/beachside and the view is gorgeous." – Google Review 
Delicious, authentic Italian food, prepared by a chef whose family's culinary history goes back four generations, and served in a charming 18th century Federal style building that is on the National Register of Historic Places: this is one restaurant that Cape Codders and vacationers alike should not miss!
"We started with their pork belly bites and they were unbelievable, our favorite appetizer so far. Will definitely be getting those again. For our mains we had the New York sirloin and the salmon. Both presented beautifully and tasted outstanding. Now let me tell you about the sides… the white Tuscan beans are a must – I get these every time and they are delicious. Mashed potatoes – delicious as well and they go great with any steak. Au gratin potatoes – my boyfriends favorite side, super tasty. Risotto – amazing. Then we got a piece of their tiramisu to go and ate it later that night – so good!" – Google Review