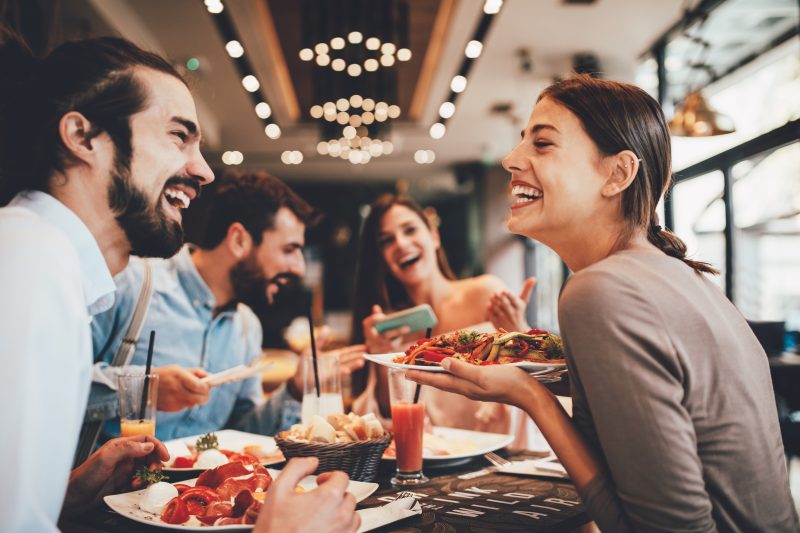 If you are a foodie or simply just love a good restaurant experience and haven't been to Hyannis, it should be next on your list! Hyannis has a bustling downtown area with lots of shops and restaurants.  The 10 restaurants listed below are true hidden gems to enjoy a delicious meal.  I stayed in Hyannis a few years ago for a road race and had some of the best meals I have ever had at some of these restaurants, hands down!  Along with the wonderful food there is also a casual, yet fun vibe brought to life by these restaurants during the day and well into the evening that makes them extra special.
The 10 restaurants below, in no particular order, are not to be missed!  They have been selected based on unique menu items, customer reviews, fresh ingredients and our own personal experiences.  Congratulations to all that made our list!
10 Amazing Restaurants in Hyannis:
Visit Spanky's and experience a little bit of "Old Cape Cod" the way you remember!  Spanky's is located directly on the water on Hyannis Harbor adjacent to the Hy-Line Harbor Cruise Ships and close to all the stores, shops and activities on Main Street Hyannis. Visit Spanky's for lunch or dinner and feast on their "wicked good" fried clams, scallops and shrimp. Try their award-winning clam chowder, deliciously light fish & chips or grab a fresh New England style lobster dinner. The locally caught and harvested seafood features the freshest fish, clams, scallops, and steamers by the pound. Also, enjoy the house-cut New York sirloin steaks, chicken and pasta dinners, an awesome cheeseburger or specialty salads galore.
"This place was fantastic. It was so great we went back for seconds during our stay at the cape. The price was reasonable and the food was outstanding. I ordered the seafood combo and everything was spectacular. Paired that with a plate of fresh calamari and wouldn't hesitate to go back in a second. My spouse got the clam chowder and said verbatim, "it's the best I've ever had".
Right on the water with great views and friendly staff. We did dine in the first time and even though they had a full house, we were not left unnoticed. Second time we did take out and the food was just as delicious as the first. We grabbed our meal and drove to veterans beach to watch the sunset. It was beautiful. Highly recommended." – Google Review 
A French bistro on Cape Cod! Florence Lowell, owner and executive chef of the Naked Oyster Bistro and Raw Bar on Main Street, is a native of the Atlantic Coast of France, near Bordeaux, a region directly across the ocean from the Cape with amazingly similar beaches, vegetation, and animal life.  Florence is committed to classically preparing dishes utilizing fresh and local products. She works closely with farmers on Cape Cod so that she can bring the best products, in season, from farm to plate often the same day. Similarly, seafood caught by local day fisherman, using the traditional long line methods, is brought directly from port to kitchen whenever possible.
"Delicious and fresh! Well worth it. Had a great date night, left full and happy.  Ceiling decor is pretty cool!" – Google Review 
"Food was amazing. We had oysters, bluefish pate, duck confit, and lobster orzo. The duck was my favorite, would definitely recommend." – Google Review 
Located in the heart of Main Street Hyannis, enjoy al fresco dining watching the crowds pass by.  Day or night sit below the historic weeping beechtree planted in 1776 and enjoy a Paloma by the outdoor bar or enjoy our full dinner menu in a light filled room with vaulted ceilings and beside a glowing bar full of tequilas.  There is also a ultra plush lounge to sit and enjoy with a smoky mezcal.
"The outdoor seating at this location is awesome! The food was delicious & our server did a great job. If you like something with a nice kick, you have to try the calamari. What a great combination of heat & flavors!" – Google Review 
The Brazilian Grill is a family-owned restaurant, established in 2000. They offer an authentic dining experience featuring homemade recipes from southern Brazil, passed down from generations.  The main attraction is the Churrasco a Rodizio, the traditional Brazilian barbecue, served table-side by Gauchos, who carve up skewers of beef, chicken, pork and lamb that have been grilled over wood fire, just as the legendary Gauchos would have done in the Rio Grande do Sul region of Brazil.
"Best salad bar. Delicious drinks.  Best chocolate brigadeiro cake. Tip go on a weekday during lunch hours. Favorites from the grill: Picanha, heart chicken, chicken with bacon, cheese with guava and pineapple."  – Google Review 
Owned and operated by the husband and wife team of Jen Villa and Blane Toedt, the West End Restaurant was created out of a shared passion for excellent service and unique culinary experiences. Escape the hustle and bustle of everyday life and enjoy a dinner and a cocktail in one of the Great Gatsby-inspired dining rooms.
"An absolute GEM. We were so thrilled when we spontaneously stopped in for brunch last Sunday. A jazz band over breakfast!? Yes please. This is our new favorite spot. Can't wait to try dinner!" – Google Review 
"The West End is such a treasure! From the delicious food & specialty cocktails to the beautiful decor & dining environment, it's clear that the owners and staff have put in so much thought, time & love into this spot. I would definitely recommend it to anyone looking for a special night or to someone visiting the Cape and looking for a local experience!" – Google Review 
Exquisite Northern Italian cuisine.  The lounge is the perfect setting for a before dinner cocktail, an after dinner espresso, or an even more casual meal.  The intimate fireside dining rooms are casually elegant and on Fridays and Saturdays they feature a jazz pianist.
Wonderful experience. Our waiter was very kind, patient and helpful. I would absolutely return again. The fettuccine noodles were cooked perfectly and the blackened scallops were oh so good! – Google Review 
Cape Cod's premier location for casual dining and a big city atmosphere that you can actually see AND taste! Enjoy big plates, a raw bar, world class tapas for a bite after work or for dinner and live entertainment in the evenings!
"The food here was ridiculously good. Like, really really really good. We ordered a wide variety of food (seared tuna, Cajun tuna, lamb lollipops, gazpacho, hummus, salmon crostini, stuffed mushrooms, and probably something else too) and none of it was anything short of excellent. Our server was very friendly and accommodating to our whims on what we wanted, and parking was easy too. Truly a superb experience!" – Google Review 
Located in the heart of historic Hyannis on Main Street, Torino Restaurant and Bar has become a most fascinating place to begin and end your evening. Dining at Torino is truly a pleasurable and memorable experience as you enjoy traditional Italian favorites, perfectly prepared steaks, the freshest seafood dishes, all accompanied by a hand selected and extensive wine list, that will thoroughly complement any entrée choice.
The seasonal outside patio and bar has quickly become the favorite gathering spot for locals and visitors to Hyannis. The outdoor bar is adorned with white Italian marble and the patio is enhanced with a fire-pit, heaters and nightly entertainment. Inside, the dramatic décor offers a backlit onyx bar and columns of hand carved onyx and wood tables, and an open and pleasant dining area.
"We really enjoyed everything. The seafood sambuca over pasta was amazing. Scallops and risotto delicious. Steak tips with potatoes and vegetables also good. Oh and we had calamari very good. Service prompt and friendly definitely recommend!" – Google Review 
Pub food with a twist…the hip urban dining room/bar with exposed pipes, tall tables and an open kitchen that includes a wood burning oven.  The name of the restaurant and the addition of beer in many of the recipes comes from an incredibly diverse and large menu of both draft and bottled beer, including at least 18 that were brewed in Massachusetts.
"Dark pub with nice atmosphere, great drink selection, and great food. Enjoyed the brussels sprouts caesar salad. The philly cheese steak stuffed pretzel was worth the 20min wait!" – Google Review 
Tumi Ceviche Bar & Ristorante is a marriage between traditional and modern Peruvian and Italian kitchens.  Specializing in the world's most famous Peruvian ceviche, housemade pastas and wood burning grilled steaks. Operated in an open kitchen with the chefs cooking within view of diners. You may also enjoy a specialty cocktail made with the signature Peruvian spirit "Pisco".
"Fabulous! Like your Peruvian or Italian Grandmother would cook. This hidden unassuming sweet restaurant is nothing short of exceptional. It is truly like home-cooking, clean, delicious dishes packed with fresh flavour! Even the simplest salad is outstanding, tossed and plated with perfection. The service is excellent too! Patrons are promptly greeted upon entering and completely attentive, never leaving you wanting or needing anything. Very impressive!" – Google Review