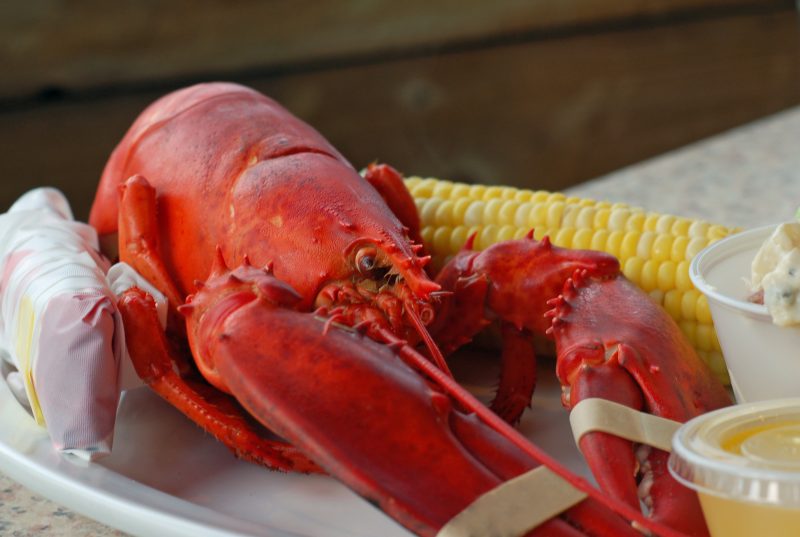 Summer is quickly approaching and the Cape is opening up and getting ready! Lobster is a summertime favorite and New England has an abundance of fresh local lobster. Whether you like it boiled, baked, grilled, in a roll or on its own you can find it on the Cape!
The real question is who serves it the best? We found the top 10 places to visit this Summer. Every restaurant on our list is unique in its own way and all offer a true New England experience. Throw on your flip flops and let's go!
Best Places to eat Lobster on Cape Cod – Top 10
Mac's (Multiple Locations)
This iconic spot doesn't even need an introduction. Many people know Mac's as some of the best seafood around and they are not wrong. They have multiple locations on the Cape and offer dine in and dine out options. The seafood here is simple and could not be fresher. Check out their local catch of the day or their popular smoked fish. The fried seafood is perfectly breaded and just the right amount of crisp and their lobsters top the charts. You will love it so much, guaranteed you will be back for more and some swag gear like a t-shirt or hat.
This one is a personal favorite of mine. This low key spot offers up some of the freshest seafood on the Cape. They have picnic tables out back to sit and enjoy the sun and your grub or you can carry out. They also have a fish market that not only sells amazingly fresh fish, lobster and other seafood, but also has some incredible freshly baked local pies. You will not want to miss this gem on your next trip to the Cape!
The Lobster Pot has been around forever and for good reason. This staple in Provincetown serves up incredible seafood and has a classic New England feel that is unbeatable. They have lobster in the name, so you better believe you are going to get some delicious fresh lobster here!
Falmouth has a lot of restaurants and this one ranks at the top. The lobster is incredible and so is the waterfront location. The wrap around deck with dockside seating can't be beat! Along with the fantastic restaurant they also offer a great venue for weddings and various events.
PJ's (Wellfleet)
If you know, you know. This iconic spot has been around for 50 years! It is a local favorite and is one not to be missed. The relaxed atmosphere and delicious seafood are the perfect combination for a great meal after a day at the beach. The lobster is freshly cracked and phenomenal. The salads, fish tacos, all of it are yum! They also have a great kids menu and are very family friendly.
If you are looking for a true Cape experience, look no further! This landmark restaurant has been a part of the community since 1969. The seafood is fresh and local and the atmosphere is fun! They have a full bar to go along with the fantastic lobster platter or really any dish you choose. Spend the afternoon or come by for dinner at sunset – you will not be disappointed!
This family owned and operated clam shack has all kinds of scrumptious seafood. They offer breakfast, lunch and dinner. They also have Lobster Roll Cruise charters available. Some favorites on the menu are the whole lobster, lobster roll, and lobster salad. Lobster Savannah is boiled with seafood stuffing and lobster bisque on top. Of course all the fixings on the side. Fantastic!
This yummy waterfront eatery and dive bar has it all. They have great views, relaxed Cape vibes, tasty cocktails and incredibly fresh seafood. The signature stuffed quahog on the menu is of course spectacular, as well as the lobster roll and everything in between. Take a load off and stop by for a great meal and atmosphere.
This restaurant offers waterfront dining overlooking the scenic Parker's River. The boiled lobster is a classic favorite. All the seafood is great here! They also have some incredible pasta entrees, with and without seafood for those that might want something different.
Cooke's is family owned and has been around for 46 years! They have a central location in Orleans and you won't miss it because there is usually a line to get in! Trust us though, it is well worth it! Their fried seafood is incredible and the lobster roll is notably one of the best on the Cape. This restaurant should definitely be on your bucket list of spots to try this Summer!