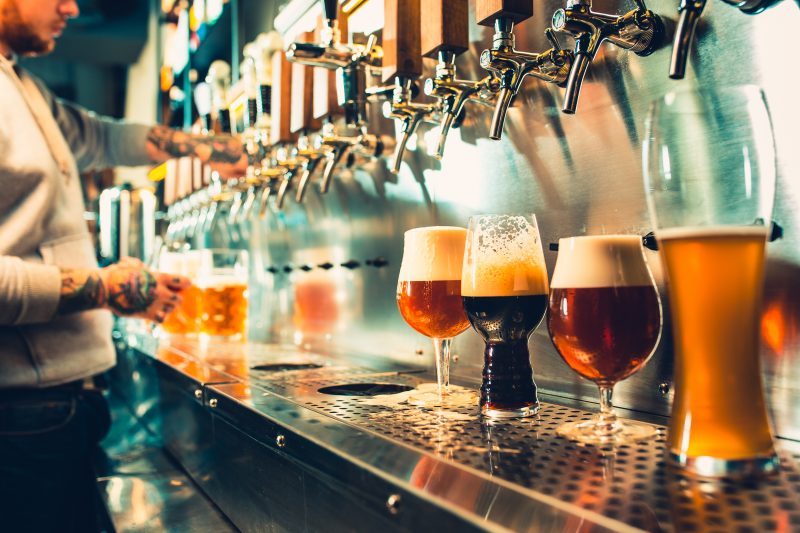 The Cape offers more than just beaches, it also offers a wide variety of breweries serving up exceptional quality beers and spirits. There are options up and down the coast, including two not to miss on Martha's Vineyard and Nantucket. Each brewery provides a unique experience of their own, with a low key relaxed vibe and knowledgeable staff. Many also offer tours with a quick lesson on how things are brewed.
We highly recommend you stop at any of these local spots for a crisp cold beer and some delicious eats! We rounded up the best of the best based on reviews and personal experiences. All of them are a must-try!
12 Best Breweries on Cape Cod & The Islands:
Devil's Purse Brewing Co. is a small craft brewery located on Cape Cod in South Dennis dedicated to the pursuit of making exceptional handcrafted beers.  Many of the beers are American styles heavily influenced by older European cousins.  Only the highest quality ingredients are used.
"Great beer; probably the best on the Cape. The brewery is a fun place with an outdoor patio as well as nice standing room inside. Good variety of beers to taste on sight as well as to-go." – Google Review
"Dog friendly outdoor patio and tasty local brewed beer. Fun staff. The IPAs are excellent!" – Google Review 
An award-winning, no frills bar and brewery.  Serving world-class drinks, beers, spirits and wines + local seafood and grub options!
" Fantastic day out. There are cocktail and wine options in addition to a brilliant beer selection. Great service, with 3x food options (pizza, dumplings, raw bar). I would highly recommend, we tried all three." – Google Review 
"Cool little brewery, distillery, vineyard combo on Nantucket. Definitely a must visit when on-Island. If you visit later in the afternoon, there is always live music. There are also typically 2-3 food trucks and a raw bar for eats. Highly recommend the frosé from the vineyard on a hot day, it is super refreshing! Also, there is a free shuttle too and from downtown that runs in the afternoons." – Google Review 
Tree House Cape Cod features two levels of expansive views across Cape Cod bay and large, sunlit taproom. This is an ideal place to enjoy a pint after a day at the beach. Further, the sunsets in this location are some of the best you will ever see with vibrant gradient skies on a consistent basis.  Within walking distance is the Sandwich Boardwalk, one of the Cape's most popular attractions, and the beautiful Town Neck Beach.
"Top notch – super excited to have Tree House in Eastern Mass. The spot is gorgeous, on the bay side beach in Sandwich just over the Sagamore Bridge. This place will get packed once the word is out and summer crowds arrive. The beer goes without saying – not skipping a beat from Charlton. Try the Hello Cape Cod IPA." – Google Review 
Locally produced small batch hard cider.  Shoal Hope Ciderworks produces 9 ciders including a few seasonal and private label ciders.  The include Monument, Honey Baby, Little Tart, Empty Barrel, Hope & Glory, Watermelon Dreams, Date Night and Tequila Mockingbird.
Offshore Ale has served Martha's Vineyard residents and visitors with hearty meals, award-winning craft beers, and an overwhelming sense of community. The island's first and only brewpub, Offshore dishes up lunch and dinner daily year-round. Offerings range from brewpub favorites like fish and chips and steamed mussels to delicious thin crust pizzas and refined seafood entrees. Nine beer taps rotate seasonally through twenty or so styles; there's something for both the hop heads and easy drinkers. In the summer, the patio and beer garden is a great place to kick back and enjoy the sunshine, in the offseason cozy up to the roaring fireplace in the warm dining room. Locally owned and operated, Offshore is a must on your list of island treasures not to be missed.
In the late spring through the early part of fall, the beer garden under the tent is open outside. From 3pm-6pm on Friday, Saturday & Sunday in the summer there is live music as long as the weather is good and food available for purchase every day.
During the off season and when the weather is lousy, the beer garden inside the brewery is open. Guests can sit back and relax while watching production brew. There is also a long list of games available inside including foosball, cornhole, and a wide selection of board games. Board games are much more fun when you are sampling beer or enjoying a pint.  Tastings are offered every day they are open.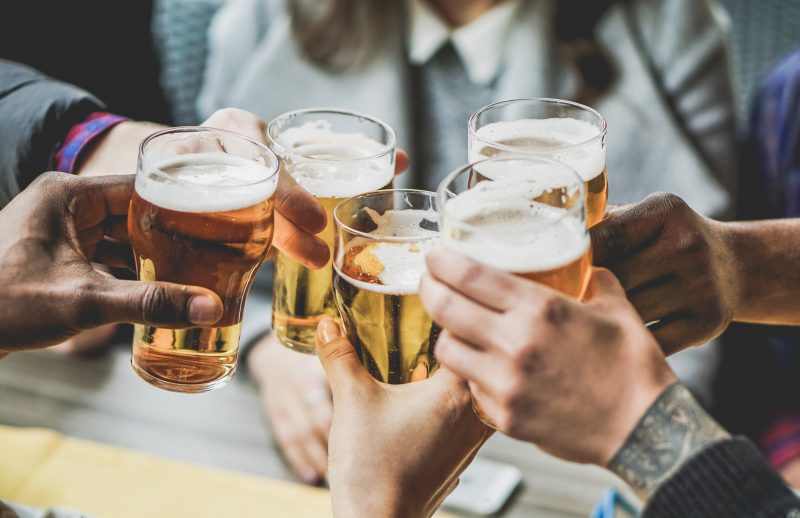 At Bad Martha, they believe in three things: great beer, getting bad and doing good. Every sip of the premium craft beer is a reminder that there's a paradise out there where you can kick off your boat shoes, let your hair down and leave it all behind.
"What a fun environment! Tons of seething inside, outside, and a cool little loft that lets you overlook the bar.
I always enjoy a good flight and this one did not disappoint. So many different options for everyone in your group. Would very much recommend this place." – Google Review
Hog Island, located on Little Pleasant Bay in Orleans overlooks the famed Nauset Beach and the dune shacks that dot her coastline.  There is no better place to enjoy a cold one than on the shores of the most picturesque place on the planet.
"Solid beer with plenty of outside seating / standing tables. The raw bar is great! The oysters and ceviche were very fresh and it's dog friendly!"- Google Review
"Went to this place on a whim while visiting from out of town. WOW. Nauset haze IPA was second to none and the fish and chips were the best I've ever had in my life. Beautiful space, great service. Everyone in our party loved this place!" – Google Review 
Providing a variety of experiences across the 6,000 sqft patio and taproom so that everyone can find a place to kick back, relax and unwind with family and friends; because at the end of the day that's what it's all about here at Naukabout.
Live music, backyard games, family events, movie nights, themes music nights, sporting events…the goal is to host something fun for everyone. From the house-made rootbeer for the kids to small-batch New England IPAs for craft-lovers, to tasty fruit beers for folks looking for something tropical… there is something for everyone on the menu at Naukabout.
Every single beer crafted is brewed with locally grown and malted grain and Massachusetts grown hops. Buzzards Bay Brewing is proud to work with other farmers to bring you a true farm to farm brew.
The fun, quirky, funky Taproom in Buzzards Bay has gorgeous views of the legendary Train Bridge. Lots of nifty bar games, classic arcade games and, delicious locally grown beer, cider and wine.
Provincetown Brewing Co. (PBC) taproom is located in the heart of Provincetown, MA. Founded on the progressive ideals that make Provincetown great, PBC is passionate about brewing quality craft beer and evoking a sense of community by reclaiming shared, revolutionary, American values, anchored on the iconic geography of Provincetown.
Barnstable Brewing prides themselves on being a family-owned business with the passion and skills to create beer that you will fall in love with – having the highest quality ingredients.
"The staff here is super friendly! We spoke with multiple bartenders and they were all great. The beers were also delicious. I had a flight with S'mores, Cape Crusher, Vanilla Milkshake, and Double Examen #19. I would recommend all of them! The food truck was good too; we had a pretzel. Highly recommend!!" – Google Review