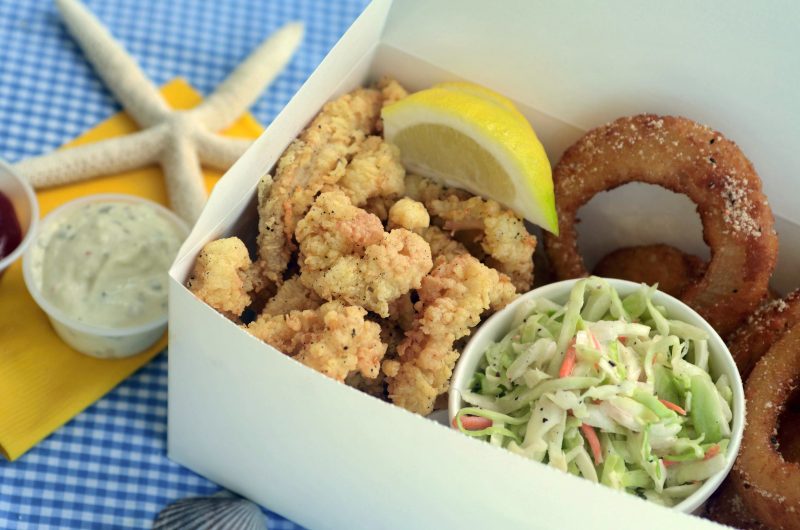 Clams are back in season soon and there is nothing that says Summer more than fresh caught clams, lightly battered with a burst of salty goodness in every bite. Nantucket and Martha's Vineyard, also known as The Islands, have top notch restaurants with some of the best fried clams you will find in New England. Many of these restaurants are seasonal and are back in business soon, ready to shuck some clams and create something delicious.
We picked these restaurants based on reviews and personal experiences. So as the weather starts to get warmer and you start planning your trip to The Islands make sure to check out these 8 winners for some sensational fried clams!
Best Fried Clams on The Islands – 8 Winners!
Nancy's (Oak Bluffs, MV)
Nancy's is a special spot in Martha's Vineyard that has been open for over six decades. They have amazing fresh seafood and gorgeous views of the harbor. There is indoor and outdoor seating available. The top deck is known to have some of the best sunsets around. Their fried clams are delicious, along with all of their seafood options. The menu is unique including a Middle Eastern twist along with the classics. They also boast having one of MV's only tropical drink bars. Try the "Dirty Banana" you won't regret it and on the way out shop for some gear to wear home!
CRU (Nantucket)
Cru is elegance meets New England casual. They have a beautiful waterfront dock location. The menu is a mix of everything fresh and delicious from the sea including caviar, oysters, extensive raw bar, lobster rolls and delectably fried specialties like fried clams. This is the perfect spot to enjoy a long lunch in the sun or a great dinner, watching the sunset with champagne, after a long day at the beach. This restaurant is a must-visit for the quintessential Nantucket summer experience.
Lookout Tavern offers spectacular views of the water while enjoying fresh seafood including an extensive raw bar, sushi, burgers and inventive cocktails. There is something for everyone here. They offer whole belly and strip fried clams that are to die for delicious, you will be back for more!
Net Result serves some of the freshest local seafood you can find on Martha's Vineyard. They offer a takeout menu, shipping and a market. They are known for their incredible fried fish sandwich, fried clams, fresh shellfish and an abundance of other local seafood. Grab a fried clam platter or sandwich and sit on a bench nearby to enjoy the view and people watching. You will not be disappointed with the authentic flavors and unbeatable quality.
Giordano's has been on the Vineyard since 1930 and continues to serve up consistently tasty and unbeatable fried seafood and Italian dishes. This restaurant is a bit of a crossover offering pizza as delicious as the whole belly fried clams. There is something for everyone at this unique iconic spot.
Seafood Shanty has been around for over 50 years and easily boasts one of the best waterfront views on the Vineyard. They have a great raw bar, fried clams that melt in your mouth after that perfect crunch, sushi and a lobster quesadilla that was featured on the Food Network. And don't forget to try the Best Damn Bloody Evah while enjoying all the delicious fresh seafood.
Sayle's is a traditional retail fish market with some of the freshest fish and seafood around on Nantucket. They offer takeout dishes like fried clams and classic New England clam chowder, as well as an entire market of local goodies to take home. If you are looking for a clambake they offer them to go or will cater one for you!
Glidden's has been around since the 1800s and is rich in history, as well as, incredibly fresh local seafood. This place is a staple on Nantucket and has stood the test of time maintaining its spot as one of the absolute best places to get fresh fish, clams, shellfish and even USDA Prime steaks. They offer a takeout menu option and market.