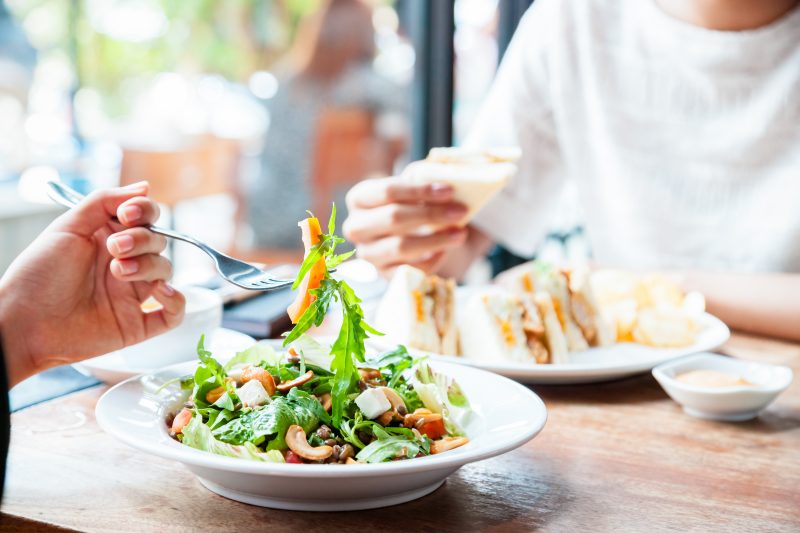 Looking for a delicious lunch, great atmosphere and varied menus?  Search no further!  We did the work for you and rounded up the 10 best places to get a tasty lunch on Cape Cod.  Although the Cape is known for it's seafood – these places appeal to all different palettes, with many options to satisfy every craving.  Many are locally owned with freshly sourced ingredients and mouthwatering homestyle cooking.
With all the options available we have narrowed it down to 10 award-winners. They have been selected based on unique menu items, customer reviews, fresh ingredients and previous awards. Congratulations to all that made our list!
10 Best Lunch Restaurants on Cape Cod:
A taste of France on Cape Cod!  European techniques and simple recipes combined with Chef Philippe Rispoli's skill and passion creates specialty hand-crafted products, and the finest French cuisine with only the best natural ingredients.
"Was recommended this place by my partner's family and it did not disappoint. The staff was friendly, and the interior smelled like gorgeous baked goods. Quite a great selection of sweet and savory items. Grabbed a bunch of pastries to eat later, all of which ended up delicious." – Google Review 
The Oyster Company Raw Bar & Grille has proudly served the freshest cuisine Cape Cod has to offer since 2005. Shucking their signature Quivet Neck Oysters for $1.50 a piece daily, customers flock to get in on their "Raw Deal" before it ends at 6:30pm. With a charming touch to casual fine dining, the intimate dining room & bar fill up with excited guests for dinner service beginning at 4pm daily.
"Great cocktails, and the entrees were spot on for preparedness and flavor. Highly recommend the seared Chatham scallops and paella song with the blackberry old fashioned and rum runner. The kids loved drawing and playing games on the tablecloth." – Google Review 
Farm to table breakfast and lunch.  Since Spoon and Seed opened in Cape Cod's village of Hyannis in 2015, the restaurant's take on breakfast & lunch has reached iconic status. From the legendary Hash Smash to the homemade Vermont cheddar biscuits to the Brooklyn Pita Pocket, the menu & marketplace is inspired by the cooking New York Times- starred chef Matthew Tropeano ate growing up. Dancing the fine line of tradition & spontaneity, the aim is to shape one of a kind dishes influenced by the American melting pot journey.
"If your a foodie or just like to try something a bit elevated then your regular breakfast food this is your place! I got the special Turkey and butternut squash over anandama bread! My Husband got homemade hash and eggs! It was delicious! They have cape cod nitro cold brew on tap which is also yummy! The hash browns are crispy small potatoes!" – Google Review 
There's nothing like spending time with neighbors and catching up on Cape life.  Clancy's Restaurant offers a family dining experience complete with a breathtaking view of the Swan River.  Dine or sip cocktails while watching the serene wildlife and enjoying delicious, authentic seafood. Clancy's is one of the only true waterfront restaurants on the Cape and nearly every seat in the house has a water view. Nothing beats the outdoor deck in the summer and early fall.
"Might be in my top 10 places I have ever had the pleasure of eating at. We sat outside and it could not have been a better night and sunset. The sword fish was the best I ever had. Desert and apps were great. 100% will be back and it's well worth the wait times.  My favorite place to eat in the Cape now." – Google Review
Casually elegant dining in downtown Wellfleet.  Since 2005, they have proudly served travel-inspired, coastal cuisine to Cape Cod neighbors and vacationers alike.
"We've eaten here many times, mostly for lunch. The food has always been spectacular.  The chef has a consummate understanding of flavor combinations, the likes of which one rarely sees. For example, I am a fan of good clam chowder – the WT clam chowder (with corn) is simply astounding. This is truly one of the top two or three restaurants I have ever experienced. Don't miss it!" – Google Review 
Bleu (Mashpee)
Since its opening, Bleu, Feufeu's debut French bistro has received top honors for the exceptional cuisine and wine program. Feufeu has successfully brought a bit of France to Cape Cod!  Bleu has been a recipient of many awards including twelve consecutive Wine Spectator Awards of Excellence for the wine program, the Trip Advisor 2016 Certificate of Excellence and outstanding reviews.
"AMAZING! It's been a long time since I've had a meal this wonderful while dining out. We got a sampling of apps: salmon tare tare, fig prosciutto tarte, and the oysters. All 3 were absolutely delicious. I got the duck breast in the raspberry glaze, and it was absolutely wonderful. Highly recommend!" – Google Review 
A healthy and delicious eatery and coffee venue in the town of Sandwich where you can feel at home sipping a freshly brewed cappuccino or latte all day, surrounded by easy going customers, familiar faces and an attentive wait staff.  Grab a quick breakfast sandwich with your hot "brew" on-the-go or relax at a cozy corner table with the daily paper and a hearty breakfast plate with eggs any style.  For lunch grab a sandwich to go or settle in for some respite time with a hot panini, homemade soup with crusty bread, or a wholesome and delicious salad.
Don't forget our wonderful variety of baked delights, all made in house and served with homemade jams and spreads, perfect for a pick me up at any time of the day.
"The bavarian sandwich is the best thing I've had on my trip to Cape Cod and I've eaten plenty of good food. If we weren't heading on an adventure for the day I would've gotten one to go. The cornbread with the chili was so moist and flavorful too. This place was a real gem." – Google Review 
Crisp Flatbread Inc is a wood fired pizza and pasta restaurant on Main Street in Osterville.  Crisp serves fresh wood-fired pizza and homemade pastas prepared with seasonal, local ingredients. They support local farmers, and are passionate about using hormone and nitrate-free meats and organic vegetables whenever possible. All of the pastas, sauces and CRISP flatbread dough are made from scratch with love.
"Outstanding flatbread. Outstanding service. Craft beer (cans), spiked seltzer, or wines – a fantastic variety.  Cape Cod's little gem for the entire family when you're craving pizza. Design your own, or get one of their "special" pizzas. Sit around the fire pit or sit at the outside bar with your significant other." – Google Review 
The Pancake Man is a full service family restaurant located at the intersection of Route 28 and Long Pond Drive in South Yarmouth. The restaurant operates daily offering breakfast and lunch (7AM to 2PM). The Pancake Man has a full seasonal liqour license and offers a selection of beer, wine and cocktails. Children's menu too!  This year the Pancake Man features an expanded offering of All-Natural Burgers and Salads.
"I have been here quite a few times over the years. I never had a bad experience. Todays visit was great. The waitress was very attentive and polite. Food was ordered and quickly brought out. My Coffee was continuously refilled! They have pancakes, omelets, combo meals with egg choice of meat, home fries, toast. They have juice, coffee, tea, hot chocolate. Try it out!!" – Google Review 
From the hills of Tuscany to a hill in the Harwiches.  An italian trattoria with delicious authentic dishes, wine, cheese and desserts.
"Such a great spot. This was our first visit and we will definitely be back. The food was excellent and the staff were knowledgeable and friendly. Loved the wine list offering a range of prices and lots of Italian wines from different regions. Loved the cozy atmosphere with the fireplace lit. There is also a small bar area too."  – Google Review
"My first time eating here. I had the veal parmigiana and it was the best I'd ever had, anywhere. We also had the eggplant, also to die for." – Google Review